On the Great Plains of southeast Montana, you can almost hear the echoes of long-ago battles over the endless horizon
It's a consummate shortcut. Seasoned travelers heading to Montana from the upper Midwest often find themselves steaming westward across South Dakota on Interstate 90. The thoroughfare winds through Wyoming before bending sharply northward near Sheridan, not far from the Montana border. But like all angles, the west and north legs of I-90 are intersected by a diagonal running northwest. As it happens, Highway 212 follows the diagonal route, saving travelers 57 miles in the process on a perfectly serviceable highway. What savvy driver wouldn't opt for the shortcut?
While the highway makes travel more efficient in relation to time and distance, it's a shame to zip through without stopping. The longest segment of the highway runs through Montana. In 2007, the state legislature designated the portion of Highway 212 running east of I-90 to the Wyoming border as the Warrior Trail. The name alludes to the region's long history as a homeland for American Indians and also references the numerous battles fought in the area between native warriors and the U.S. Army, most notably the infamous Battle of the Little Bighorn where General George Armstrong Custer and his soldiers were overwhelmed by indigenous forces on June 25, 1876.
But the southeastern region of Montana bisected by the Warrior Trail has even more to offer than history. It's a land of geological wonders, paleontological discoveries and a bold, singular landscape in ranch country where scenery and solitude blend on an endless horizon.
Medicine Rocks State Park
One of the area's most fascinating sites, Medicine Rocks State Park requires a diversion from Highway 212 just inside the Montana border. At the "town" of Alzada (population 29), a ribbon of asphalt veers away to the north, taking the traveler on a rambling journey through sparsely populated ranch country where wildflowers cloak the green hills in early summer and the golden leaves of green ash trees glow along the creek bottoms with the onset of autumn.
Highway 323 reaches the quiet ranching community of Ekalaka after a bit more than an hour's drive (72 miles). It's another 12 miles to the state park, but first don't miss the Carter County Museum in Ekalaka.
Tucked away in this rural hamlet is Montana's first county museum, founded in 1936. Like many other small-town museums, it's replete with displays regarding the Native American and ranching heritage of the local area. However, the tidy little museum also lays claim to world-class artifacts. Ekalaka is at the heart of some of the richest dinosaur "digs" on the planet. The museum houses a complete skeleton of a duckbill dinosaur (one of very few ever discovered) and a complete skull of a Triceratops.
The area badlands have produced numerous fossils from an array of dinosaurs along with extinct sea creatures and other animals. Each summer the museum hosts the Dino Shindig, a weekend program featuring lectures by leading paleontologists, kids activities and entertainment. The event takes place July 27 and 28 this year.
Just up the road from Ekalaka, Medicine Rocks State Park takes its name from a collection of sandstone formations that jut from the prairie like ancient battlements or abstract sculptures in stone. These geologic wonders are the creations of two natural artisans, wind and water, that over the course of innumerable human generations eroded the soft stone into its current form. The term "medicine rocks" hearkens to the belief of native peoples that the area was a place of spiritual significance. Later on, European settlers used the site as a gathering place for picnics and social events.
Drawn on the soft, sandstone formations are hundreds of petroglyphs and inscriptions from ancient to modern times. One of these is a detailed carving of a young woman's head; she is being offered a flower by a bird in flight. The artwork is believed to represent the jilted love interest of an Irish sheepherder named Herbert Dalton who poured his anguish into the stone in 1904.
Beyond the rock formations, Medicine Rocks State Park and the surrounding area are great places to spot wildlife. Mule deer, sharp-tailed grouse, pronghorn, wild turkeys, meadow­larks and scores of other bird and mammal species may be spotted in and around the park. Visitors may hike several short trails winding through the 330-acre park. Like numerous other tracts of public land in the area, the park was once a homestead. When the homesteaders were unable to make a living from the property, its ownership reverted to the state.
Ranching and Native American Artifacts
Back on Highway 212, the westbound traveler hits the halfway point between the interstate highways at the town of Broadus. It's a bona-fide ranching community with two gas stations, a well-stocked grocery, a tack shop, feed store and the Powder River Historical Museum and Mac's Museum.
Despite its modest appearance from the outside, the museum is a hit with travelers. Ratings on travel websites are almost invariably stellar. Common among the comments are those who rue not having more time to spend viewing the artifacts. Among the museum's most highly rated displays are the pioneer schoolhouse, vintage clothing, old-time transportation (buggies and early automobiles) and the county's jail, which was constructed in 1919. The museum also houses the largest collection of seashells west of the Mississippi River.
History lovers will find another outstanding museum just up the road in Ashland. In 1884, a former soldier concerned with the welfare of the Northern Cheyenne people in eastern Montana entreated Bishop John Brondel on their behalf. The result was the establishment of the St. Labre Indian School and parish at Ashland. The school now educates around 750 Native American and local pupils at its main campus in Ashland and two smaller schools on the Crow Reservation.
The long and successful history of St. Labre (an exceptionally high percentage of graduates attend college) has enriched its community in other ways. Throughout the years tribal members and donors have entrusted the school with priceless Native American artifacts. Many of these are on display in a small museum attached to the school's administration building that is open to the public. The collection includes numerous examples of clothing decorated with intricate beadwork, quills and shells. Arrow points, war clubs, shields and other implements are also displayed. Admission to the museum is free; donations are accepted.
Tongue River State Park
A short detour from the Warrior Trail southward on Highway 314 (37 miles) leads to Montana's Tongue River State Park. Tongue River Reservoir is a sprawling impoundment near the Wyoming border. Its lengthy, irregular shoreline spans more than 12 miles on the main stem of the Tongue River, its waters lapping at multihued sandstone bluffs and spilling into plenteous prairie coves. The park boasts a large campground, a seasonal marina, two boat launches, picnic areas and access to a host of activities for water lovers.
Fishing is a recreational favorite among visitors. Smallmouth bass, northern pike, walleye and plenteous crappie make the reservoir a hot spot for local anglers. Motorized boats are used by many anglers, but the reservoir's protected coves and back bays are ideal for those casting from a canoe or kayak. The prime fishing season typically begins around Mother's Day. Action is excellent through June and usually remains consistent throughout the summer.
Along with fishing, the reservoir is also noted for recreational boating. Birders and wildlife watchers who rise early are frequently rewarded with sightings of pronghorn, mule deer, coyotes, blue herons, ospreys, meadowlarks and many lesser-known species. One of my fondest memories from the area was drifting within a stone's throw of a blue heron while fishing from a canoe. The stately bird's gaze on the shallow water in which it was hunting was so intent that it resulted in the closest encounter I've ever experienced with a heron.
The Warrior Trail's westward termination occurs at Little Bighorn Battlefield National Monument and Highway 212's wedding with I-90. The national monument commemorates the Battle of the Little Bighorn, or Custer's Last Stand, the military encounter in which Custer's troops were annihilated by a confederation of native warriors. The monument includes a visitor center with many intriguing displays including artifacts from the battle. Interpretive talks further inform visitors of the site's history, while an auto-tour route with informative stops shows gravestones erected where soldiers fell and gives a visual sense of how the battle unfolded.
Although not usually billed as a wildlife park, Little Bighorn Battlefield is home to many types of wildlife including 14 species of reptiles, six amphibians, 25 mammals and at least 60 species of birds. Sharp-tailed grouse, a native bird whose mating antics were the inspiration for some historic Native American dances, are sometimes seen among the headstones in the national cemetery near the visitor center. An early morning stroll on the monument's walkways provides the chance to see many Plains species of birds such as sparrows, western kingbirds and red-tailed hawks.
The Highway 212 shortcut is a mile-saver for drivers looking to minimize distance. But it's a shame to pass through in haste, for there are more than a few travelers' nuggets to unearth on the Warrior Trail.
---
Stay and Play
Known as the Warrior Trail, Highway 212 in Montana between Interstate 90 and the Wyoming state line covers miles of history and much to see. Battlefields, memorial sites and top-rated museums along the way tell the stories of Lieutenant Colonel George A. Custer and Native Americans in such detail that travelers are transported to the past. Campgrounds are limited along the way, but they're well spaced in relation to attractions. The following five campgrounds are listed from east to west.
North of Ekalaka, Medicine Rocks State Park has seven primitive campsites available on a first-come, first-served basis, as well as clean vault toilets and hand-operated water pumps. Park entrance fee is $6 for nonresidents, and camping is $28 per night for nonresidents. The campground fills quickly during Dino Shindig at the end of July.
Three miles southeast of Ekalaka, Ekalaka Park Campground is a primitive Forest Service campground with seven sites, picnic tables and water. It isn't suitable for long RVs, and there are no fees or reservations.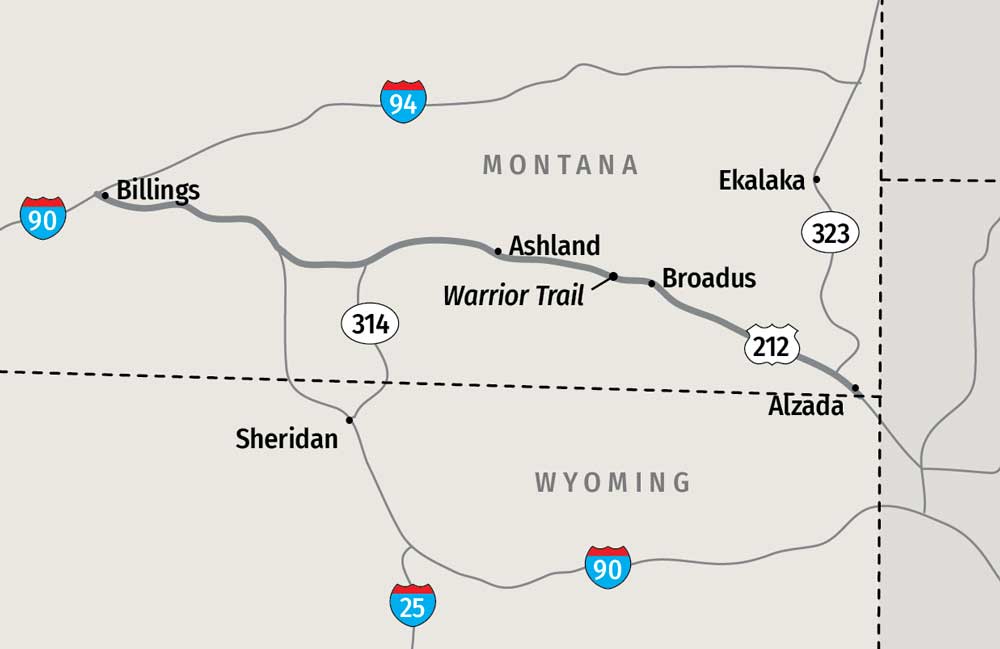 On the west side of Broadus, Wayside RV Park is a rustic commercial campground. Accommodations range from tent sites to electric hookups (30 and 50 amp), full hookups and camping cabins, and there's a small laundry and dump station.
East of Ashland, Red Shale Campground is a Forest Service campground adjacent to Highway 212 with 14 sites and vault toilets. The longest sites accommodate RVs up to 30 feet. No fees, no reservations, and no water available.
In Decker, Tongue River Reservoir State Park has 81 reservable sites with electric hookups and 80 first-come, first-served sites with no electric, available from May through September. Sites have picnic tables and fire rings. Water spigots and vault toilets are near most campsites, and there's a dump station. Park entrance fee is $6 for nonresidents. Camping is $28 per night for nonresidents, and $34 per night with electricity.
Planning Your Trip
The Montana Office of Tourism's website is a good place to start planning for a history- filled road trip through the Great Plains. Use the search tool and type in "Warrior Trail Highway" to find a map and places to stop along the route. A downloadable guide, Montana: Explore Indian Country, provides more information on following the Warrior Trail and visiting the state's Native American homelands.
---
Jack Ballard, Trailer Life contributor and an award-winning author and photographer, has written hundreds of articles on outdoor recreation topics that have been published in more than 50 different magazine titles. He has also written 13 books. Jack's first RV was a 1961 Aristocrat camping trailer he bought for $500 in 1989. Although he appreciates the technological advances of modern RVs, he retains a keen interest in vintage units.
---