K-Z RV's Durango Gold targets full-timers wanting to spread out, store lots of supplies and benefit from a slideout-positioned entry door
In modern society, it is inevitable that things are going to change, and that includes products produced by the RV industry. Of late, manufacturers have been introducing new models and floorplans at a record pace, and just about every builder is refining its models to cater to the whims of buyers. K-Z RV, now part of the Thor family, followed that thinking when it upgraded its popular Durango Gold fifth-wheels for 2017.
The Durango Gold line is targeted at full-timers who are looking for luxury without breaking the bank, and the G384RLT is the latest addition. In getting there, the company focuses on adding touches that upgrade the look and function of the fifth-wheel without throwing in high-dollar items that make you feel like you're inside a rolling mansion, or paying for one. The designers highlighted specific features, carefully coordinating the development of this latest iteration with good styling and good-quality, value-priced items, where possible. The result is a fifth-wheel with a solid build and enough changes to appeal to more discriminating buyers who spend a lot of time in their fifth-wheels.
Take, for example, the platform on which the Durango Gold is built . Starting with a commonly used I-beam fifth-wheel frame, the foundation isn't anything you'd call fancy, but then it adds the trusted Equa-Flex Equalizer suspension and Trailair Rota Flex pin box. This road-worthy hardware quickly proved itself with a smooth pull that allowed us to easily maneuver the 40-foot 4-inch G384RLT with confidence and in comfort. Finishing off the chassis are a pair of 7,000-pound Dexter axles with auto-adjusting brakes, supported by 235/80R16E tires on attractive gun-metal-gray, eight-lug aluminum wheels. Also attached to the frame is the newest version of Lippert's six-point hydraulic auto-leveling system. This more compact and versatile system worked well after clocking a little time with the owner's manual.
While there isn't an abundance of modern digital entertainment equipment lurking behind the exterior compartment doors, there is the right amount of space for users — even full-timers — to keep just about anything needed to participate in the lifestyle. This includes a nicely organized and easily accessible convenience center containing heated and enclosed dump valves. Complementing the heated and encased underbelly is a massive pass-through storage compartment located near the center of the trailer that is totally finished, sealed and heated, and fitted with firm-grasping slam latches.
Up front there's  another compartment with optional generator prewiring and a specialized battery box/compartment combo, where traditional battery boxes have been swapped for a much cleaner and user-friendly facility.
The living side of the 8-foot-5-inch-wide exterior provides a home for a set of speakers and an optional pair of Carefree LED-lit electric awnings, 17 feet for the front and 11 feet for the slideout, which houses the entry door. The entry in the slideout is fairly uncommon in the industry. Perfectly tinted frameless windows flow seamlessly among the easy-on-the-eyes silver and black graphics.
As for that aforementioned entry door in the slideout, it may not be the first one on the market, but the company claims it's the first to incorporate MORryde's new flip-up entry-door stairs, the StepAbove. Although the entrance inspired our skepticism at first glance, the configuration was quickly appreciated. Not only was the slideout super solid once deployed, but this structure provides tons of otherwise untapped interior space because a wall does not have to be devoted to the entry door.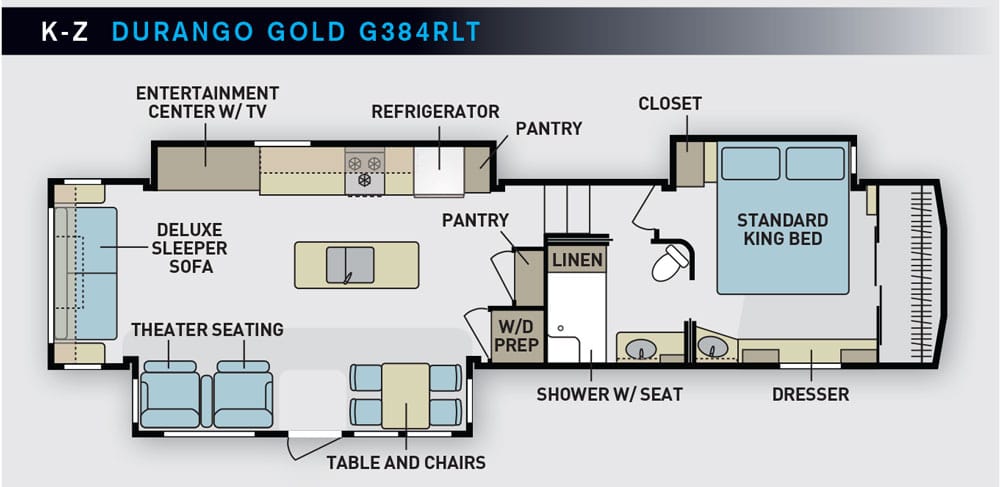 We initially scratched out heads trying to figure out how to deploy the StepAbove before opening the slideout, since the panel to run the slide was inside the trailer, and we were outside. When the steps are in their stored position, entry to the interior is impossible. Once we found a second touch pad for opening the slides inside an exterior compartment, we were able to deploy the slide and lower the steps. In use, the StepAbove is sturdy and offered great landings for our feet. It does require extra space, so parking close in a storage area or crowded parking lot may be problematic. Also, while not heavy enough to be a burden for some, it does require some strength to maneuver, especially when lifting it back into the allocated travel space in the door frame.
Speaking of sturdy structures, a peek into the nuts and bolts reveals a solid foundation for the Durango's body and living quarters. The fifth-wheel is built on an aluminum-perimeter frame using 2×2- and 2×3-inch materials, all fully welded. To assemble this big rig from the floor up starts with 5/8-inch marine-grade tongue-and-groove decking that's been glued and screwed, providing a noticeably flex-free base needed for a lot of foot traffic. Before the floor is seated, an extra measure is taken to prevent freezing pipes by sandwiching all plumbing lines between the floor and insulation, plus the lines are heated, too.
The company touts its All Weather Insulation package, which includes double-insulated holding tanks rated at R-38. The same R-value is applied to the floor, ceiling, roof and end caps. Side walls have an R-11 insulation rating, and wall construction uses the industry-standard lamination process with the addition of a Lamilux high-gloss-ivory fiberglass finishing layer, projecting a deep, glossy and rich-looking luster. Topping the towering walls, a full-walk-on Superflex TPO roof membrane overlies 3/8-inch decking on 5-inch welded trusses. Crowning the front end is an extra-reinforced, heavy-duty painted fiberglass front cap with integrated LEDs, which highlight the golden hues of the ivory coat.
Once aboard the fifth-wheel, what appears to be a small home's worth of coordinated cabinetry, top to bottom and front to back, graces the gray-toned walls. Again, it's not difficult to see the benefits of having the entry door in the slide room and that this rig is intended for long stays. Your eyes are almost mesmerized by the wonderfully wide seating and entertaining area. Within the nearly condo-size living room, not only does the open space peak out at a healthy 6-foot-4-inch height and 8-foot 1-inch width, but there's also a comfortably viewed entertainment center housing a huge flat-screen TV and a fireplace underneath. A plush hide-a-bed couch and matching optional theater seating provide more creature comforts.
Some key items inside the G384RLT are an out-of-the-way but easily accessible pantry with LED backlighting and a prepped washer-dryer closet that is large enough for stackable appliances. An optional onboard InterVac central-vacuum system resides nearby with enough power to tidy up at a moment's notice. For those lacking the experience with one of these built-in soil suckers, it's well worth the money. An electrical epicenter provides access to several switches and climate controls in one spot. Keeping the inner elements cozy year-round are a 35,000-Btu furnace and optional dual 15,000-Btu air conditioners, one in the living room and another in the front bedroom.
Before strolling up to the master bedroom and bathroom, attention focuses on the galley, which is inviting and homelike. It is impossible to miss the large, deep-basin residential stainless-steel sink that smoothly flows off the edges of the solid-surface counter on the kitchen island. Aiding in kitchen cleanup and food prep are a high-arch pullout sprayer faucet and an optional dishwasher. Immediately opposing the ideally placed island is another, even longer solid-surface counter, but with a flush-mounted, folding glass-covered high-output range, trimmed in stainless. Directly above the stove is a matching home-size convection microwave. Nestled in the neighboring kitchen cabinetry is an optional 18.3-cubic-foot, four-door Norcold PolarMax RV refrigerator. Forgoing a residential refrigerator is somewhat of an anomaly in a full-timer's rig these days, but it does provide the versatility to stay unleashed from hookup power; a residential model is available as an option.
The kitchen cabinets are cleanly fit and finished, and every drawer has heavy-duty 100-pound-rated guides to prevent sagging. Lighting up the kitchen and living room are variously colored, tactically positioned LED lights in the ceiling, cabinets and anywhere else they'll fit throughout the interior.
While K-Z tags this fifth-wheel as a luxury model, the bathroom falls a little short in this department. There's the usual array of fixtures, and the rectangular shower, which is inviting and easy to spend time in lounging under the water, is complemented by a solid-surface counter and stainless under-mount sink. It would be nice to see a higher-quality faucet and showerhead that is a little more residential in styling and function, and not plastic.
On the positive side, there's plenty of room for dressing and moving around, the toilet is not crowded, and there's a good glass shower door.
The front bedroom will not disappoint and is suitable for those who need to store a large selection of clothing and other items in a wardrobe closet. In just about any direction from the king-size bed are a grand assortment of cabinets and storage cubbyholes. At the foot of the bed is a full-wall dresser with a very appreciated secondary sink, mirror and full personal-prep station at one end, while the center section houses another fairly large TV. Following the edge of the dresser leads to a full-length, double-door mirrored closet.
Like the rest of the fifth-wheel, the bedroom has plenty of LED lighting for dressing and reading. Although the bed allows access to a huge storage area under the mattress and is very comfortable, it takes up a lot of real estate, and potential owners may want to opt for a queen-size bed to allow more walking room. Also, more attention to detail could be exercised when assembling the bed structure, as some of the overhanging plastic trim corners were not cut properly and created a problem when walking too close to the bed.
This is a simple fix that the dealer should be able to rectify, but better yet, do it right the first time at the factory.
Overall, the Durango Gold provides an inviting home base for full-timers, and the G384RLT is a good choice for those who like to spread out and enjoy the features of a rear living room with theater seating and entertainment areas. Rest assured that hosting visitors can be easily handled without fighting for personal space. The right touch of technology, the slideout entry door and robust steps, and the long list of amenities make this fifth-wheel a real contender in the full-time arena, and its overall exterior looks and interior decor will contribute to pride
of ownership.
K-Z RV | 866-472-5460 | www.kz-rv.com
---