With characteristic peaked roofs and rigid walls, lightweight A-frame trailers are not only easy to set up, take down and tow, they have a charm all their own
Drive through any venerable beach town, mountain retreat or lakeside vacation community, and there's a good chance you'll spot an A-frame house. Following World War II, Americans invested in second homes in record numbers, with A-frame architecture being an affordable and stylish option. In the early 1970s, the distinctive triangle shape made its way to the RV industry.
Perhaps inspired by the popularity of A-frame houses, an Oregon do-it-yourselfer built what is thought to be the first A-frame trailer. The concept soon caught on, and its creator, Ralph Tait, packed up and moved to Pennsylvania to go into business selling trailers under the Aliner moniker. Over the years, other manufacturers followed suit.
Technically, A-frames are a type of pop-up trailer, since they fold flat into a towable box for transport and storage, and have to be "popped up" before use. However, unlike traditional pop-ups with canvas sides and plastic windows, A-frames have rigid, insulated walls with solid windows and skylights. When unfolded, they literally resemble the letter A from the outside, with an apex at the center of the roof.
Most A-frames extend less than 20 feet and have a gross vehicle weight rating (gvwr) from 2,000 to 3,800 pounds. With their light weight, nimble towing, easy setup and considerable charm, they have an enduring appeal.
Allure of the A-Frame
Who might want to buy one of these nifty little trailers? The A-frame design is most popular with solo travelers and couples but can also suit small families. While many models have room for one or two occupants, larger A-frames have comfortable sleeping space for up to four.
Unlike some new RVs, A-frames don't come with electric fireplaces or kitchen islands, but their lightweight design offers many benefits. For starters, the trailers don't require a large vehicle for towing, and owners can often repurpose their daily ride as a tow vehicle. Their light weight and low profile also make them a fuel-efficient option.
Because of their compact size, A-frames can be stored in a home garage, carport or almost anywhere a parked car would fit, and they slip effortlessly into municipal, state and national park campgrounds. Once in the campsite, these trailers can be set up quickly, even by solo RVers. It typically takes no more than five minutes to convert an A-frame from travel mode to living space, especially with models equipped with power roof lifts. Spring-loaded mechanisms make the setup process easy for even the full-manual models.
While A-frames share many benefits with conventional pop-ups, the laminated side panels might be their biggest advantage, providing protection from the weather and adding an element of security over canvas. A-frames stay cooler than pop-ups in summer and warmer in winter, and they easily block out rain and wind.
Although only a few manufacturers build A-frame models, those dedicated to the design have continued to innovate and update this classic, and a surprising number of floorplans and options are available. When Ralph Tait was tinkering in his garage nearly half a century ago, he probably never imagined that his rolling invention would one day come with bunk beds, much less LED lighting, Wi-Fi extenders and solar-panel prep.
Whether a solo RVer is looking for something simple for road trips or a family of four is seeking a minimalist option, an A-frame trailer just might be the perfect choice. Here are four of our favorites from among the current offerings.
---
Forest River's Rockwood division rolls out nine A-frame models that the company calls "hard-side pop-ups." Among them are four A-frames sold with the Extreme Sports Package (ESP). These are ideal for active solo travelers and couples seeking a small trailer for big adventures.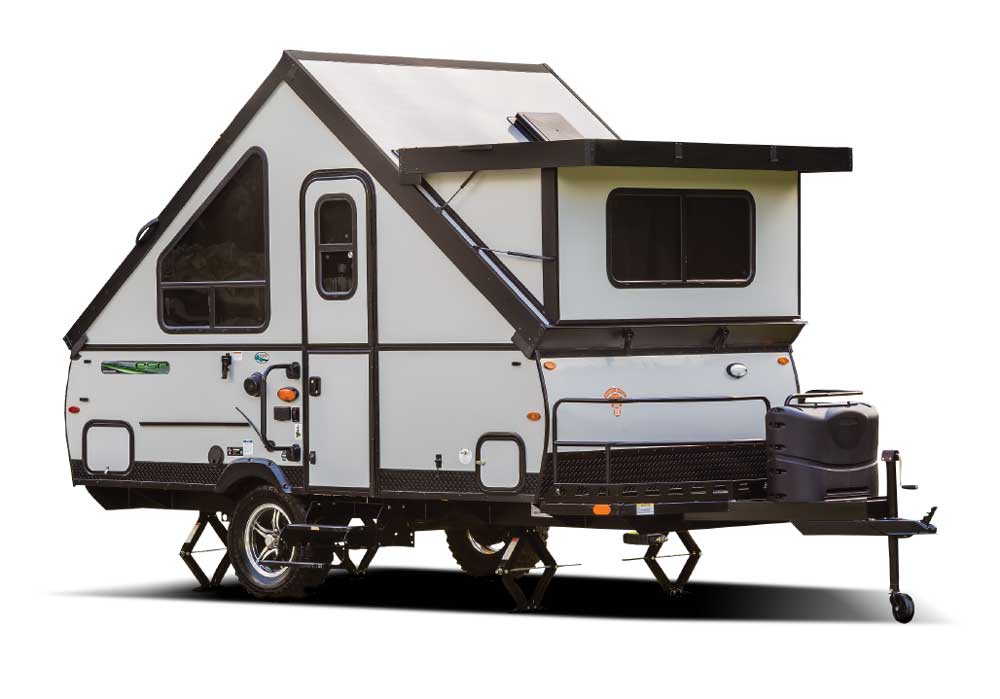 Hard-side ESP trailers come with roof-mounted crossbars and an expanded front deck for transporting bicycles and other recreational gear, welcome features for outdoor enthusiasts. The package also supplies added ground clearance and 15-inch Dunlop Mud Rover radial tires for more rugged adventures, along with modern conveniences like an awning, Wi-Fi booster, USB charging ports, and satellite- and cable-TV hookups.
One of the smallest of the ESP A-frames, the A122BHESP measures just over 19 feet. Large tinted windows make it seem roomier inside, and an optional dormer adds headroom. A heated memory-foam mattress warms up the 54-by-80-inch flip-up bed that fills the rear of the trailer. Below it, storage space is accessible from the interior or exterior.
If more sleeping space is needed, the 45-by-80-inch front dinette folds down into a bed. A sink, microwave, 1.9-cubic-foot refrigerator and three-burner stovetop equip the kitchen, and a gas grill moves the cooking outdoors. For rinsing off outside, there's a coiled spray hose. There is no toilet, so when nature calls, campers will need to take their business elsewhere or figure out a way to pack along a portable toilet.
While compact, the A122BHESP has a claimed carrying capacity of 1,372 pounds. Gas-strut lift assists speed setup, and the white fiberglass exterior has a modern touch with minimal graphics.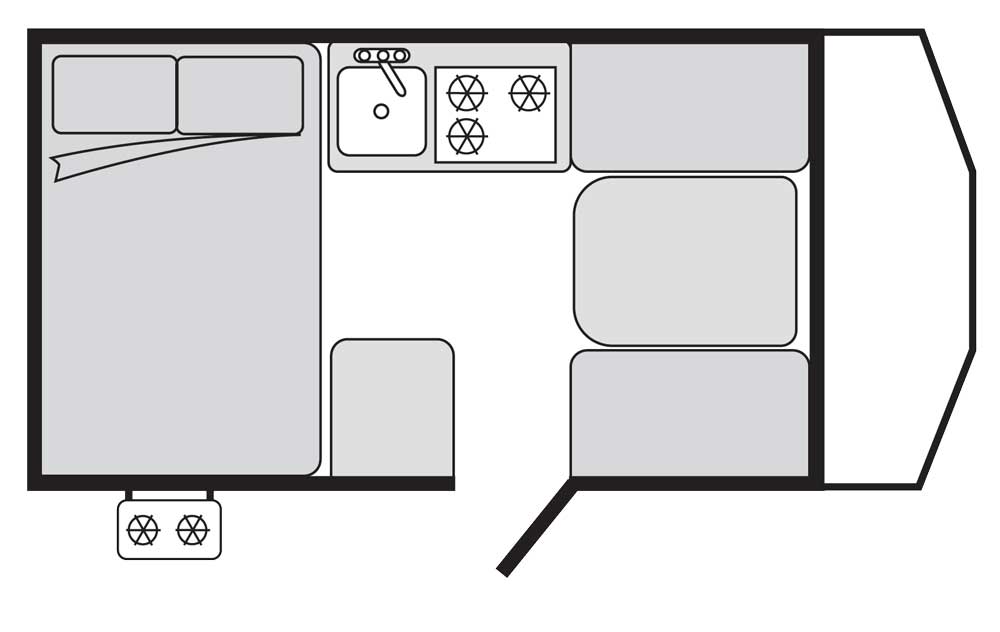 Exterior Length 19′ 2″
Exterior Width 7′
Interior Height (Open) 7′ 11″
Exterior Height (Closed) 5′ 8″
Freshwater Cap. 26 gal.
Black-/Gray-Water Cap. N/A
LP-Gas Cap. 5 gal.
UVW 2,428 lbs.
Hitch Weight 325 lbs.
Axle Weight 2,065 lbs.
GVWR 3,800 lbs.
MSRP, Base $16,913
---
Like its sister manufacturer, Rockwood, Forest River's Flagstaff brand offers nine A-frame models. The nearly 21-foot Flagstaff T21DMHW delivers more floor space than the Rockwood A122BHESP, and the headroom-extending front dormer is standard.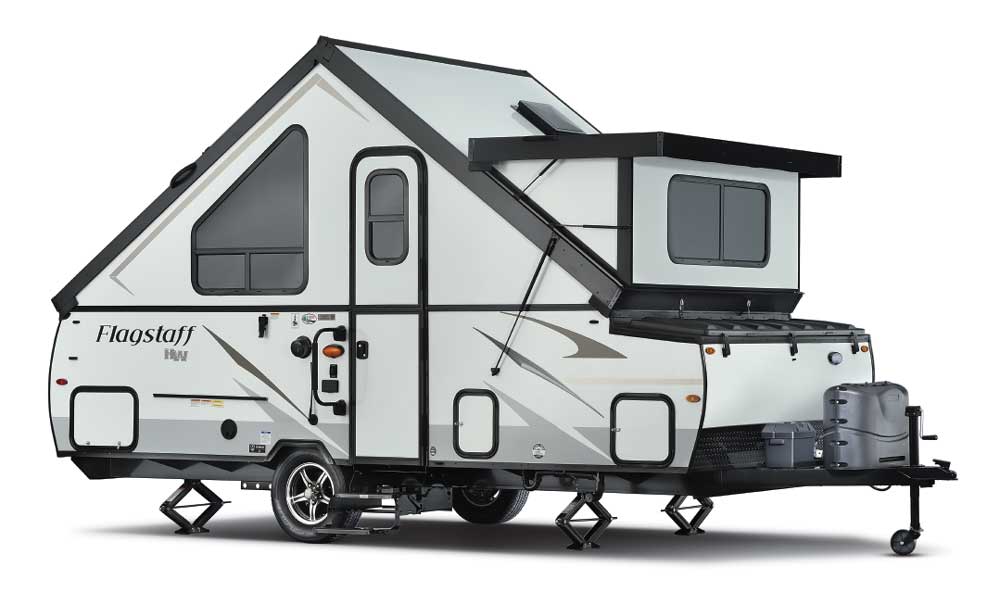 The side dinette is cozier than the Rockwood's, at 33 by 64 inches, and the flip-up bed is wider, at 60 by 80 inches, with the same thermostatically controlled mattress. The small kitchenette has similar necessities but a larger 2.5-cubic-foot refrigerator, and the outdoor grill likewise comes standard.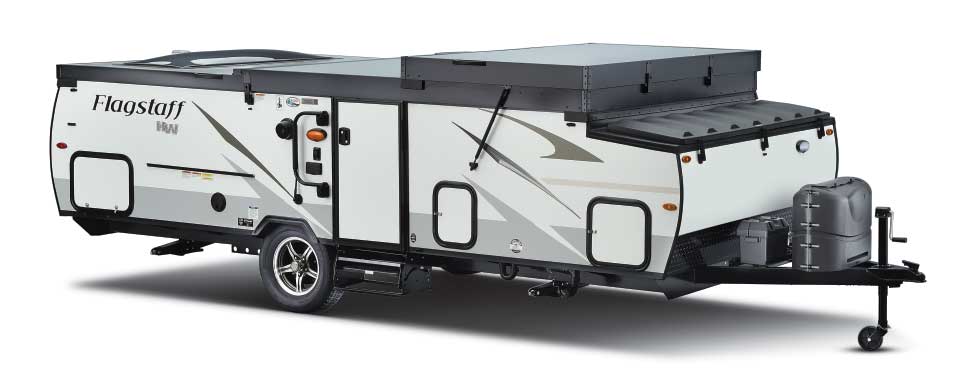 The big difference in the T21DMHW is its compact, hard-side wet bath, which includes a cassette toilet that holds 6 gallons, and a square tub and spray hose, requiring a portable tank. While not roomy enough for a comfortable bath, the space is functional, and the outside shower adds a bathing option.
The front of the trailer includes a large exterior storage box with a flip-up lid. Below this, a sliding drawer runs the entire width of the unit. Opening a side door allows easy access to this extra storage, a prime amenity in a small towable.
With a base retail price under $19,000, the T21DMHW is a good choice for cost-conscious travelers who want a small trailer with everything needed for self-contained camping. Cargo-carrying capacity is a respectable 653 pounds.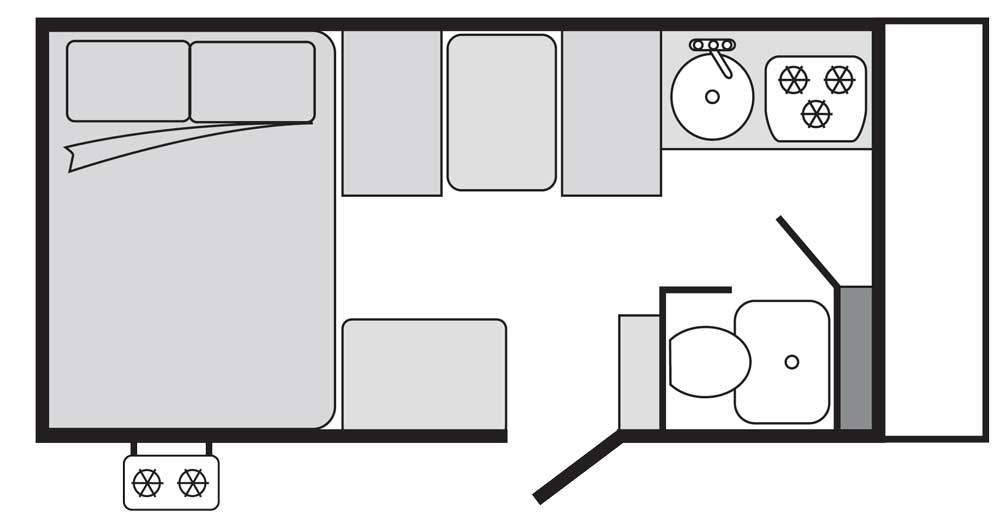 Exterior Length 20′ 10″
Exterior Width 7′
Interior Height (Open) 8′ 5″
Exterior Height (Closed) 5′ 8″
Freshwater Cap. 26 gal.
Black-/Gray-Water Cap. N/A
LP-Gas Cap. 10 gal.
UVW 2,700 lbs.
Hitch Weight 353 lbs.
Axle Weight 2,309 lbs.
GVWR 3,353 lbs.
MSRP, Base $18,986
---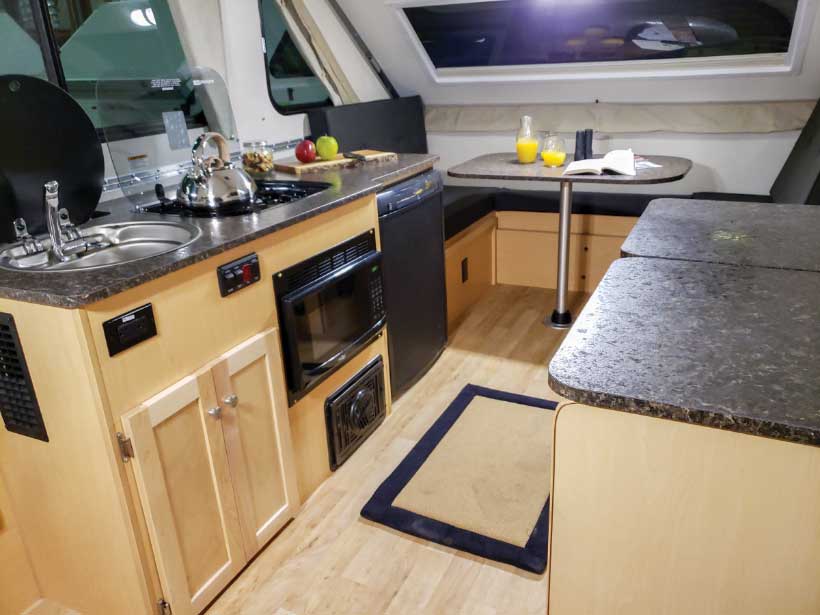 Aliner is where the A-frame was born, but the company hasn't stayed in the past. Its 2019 A-frame lineup demonstrates how Aliner has evolved over the years, updating the styling and offering modern amenities. Aliner has nine A-frame trailer lines, and the Expedition is one of the largest, coming in at 18 feet long.
Each of the Expedition's three floorplans features a front dinette, convertible to a 40-by-80-inch bed. At the rear, choices include a dedicated 60-by-80-inch bed with storage below, a sofa bed or a pair of twin beds with a central nightstand. With sleeping space for up to four, all Expedition models have room for a small family.
The white interior feels bright, spacious and modern, particularly with the natural light and extra headroom provided by the optional front and rear dormers. A Fan-Tastic Vent fan keeps fresh air circulating inside.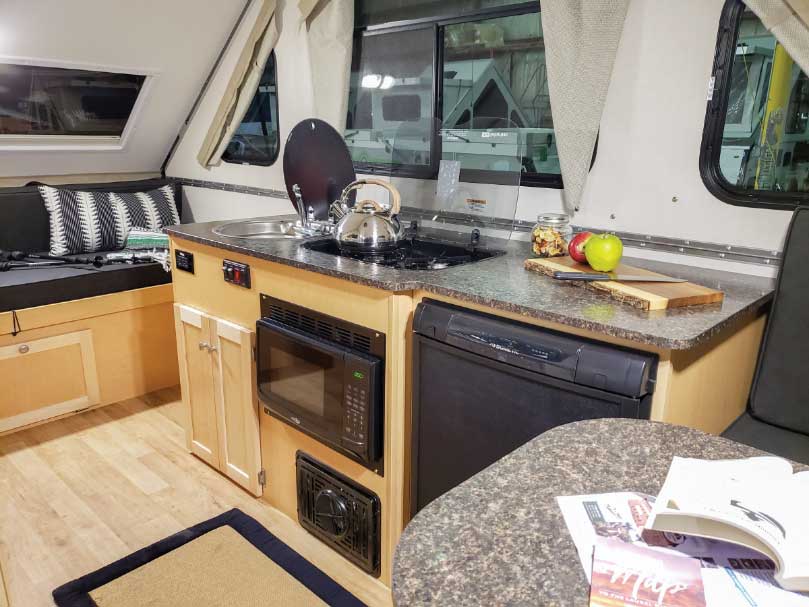 The central kitchenette has a flush-mount sink, a three-burner stovetop, a microwave and a 3-cubic-foot refrigerator with a freezer. An optional swivel cassette toilet can be added for self-contained camping, and an outside shower comes standard.
The Expedition has a substantial 1,150-pound cargo capacity, but that can diminish quickly when adding options such as the dormers, furnace and wall air conditioner.
Exterior Length 18′
Exterior Width 7′
Interior Height (Open) 8′ 6″
Exterior Height (Closed) 5′ 8″
Freshwater Cap. 11 gal.
Black-/Gray-Water Cap. N/A
LP-Gas Cap. Optional
UVW 1,850 lbs.
Hitch Weight 240 lbs.
Axle Weight 1,850 lbs.
GVWR 3,000 lbs.
MSRP, Base $20,660
---
Chalet manufactures three sizes of A-frames, ranging from the 12-foot, 9-inch LTW, with a lithe 2,000-pound gvwr, to the XL, which is large enough for a family of four. The XL extends 18 feet, 7 inches and has a gvwr of 3,500 pounds. A standard electric roof lift makes campsite setup almost effortless.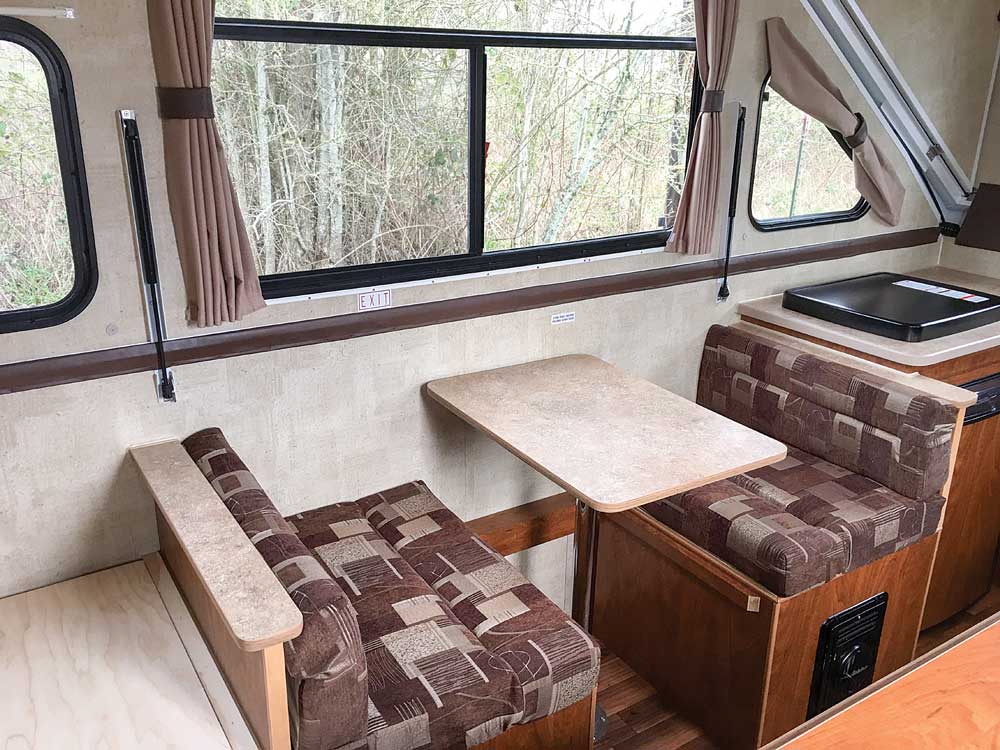 Of the three XL floorplans, the XL-1935 sleeps two in the dedicated 60-by-80-inch rear bed and will appeal to chefs on the go with a wraparound front kitchen offering more countertop than other A-frames. Windows above the residential-height counters allow lots of light when prepping meals.
The XL-1930 furnishes sleeping space for up to three adults, with the same rear bed as the XL-1935 and a front dinette that converts to a 46-by-80-inch bed. While it might be inconceivable that a sloped-roof A-frame can hold bunk beds, the XL-1920 brings this option to the table with two low-height 46-by-80-inch berths and a rear dinette that converts to a 60-by-80-inch bed.
All XL kitchens are equipped with a double-bowl stainless-steel sink with
a cutting-board cover, and a three-burner cooktop with a 3-cubic-foot refrigerator below. A toilet and shower are part of the optional wet-bath package, and a hard-side front dormer is also an option.
The Chalet XL is not only one of the roomiest A-frames on the market, it is also the priciest. But thanks to the expansive roof height and bright interior, the XL feels more spacious than some similarly priced travel trailers.
Exterior Length 18′ 7″
Exterior Width 7′ 3″
Interior Height (Open) 8′ 7.5″
Exterior Height (Closed) 6′ 1″
Freshwater Cap. 15 gal.
Black-/Gray-Water Cap. Optional
LP-Gas Cap. 10 gal.
UVW 1,995 lbs.
Hitch Weight 240-370 lbs.
Axle Weight 1,755-2,165 lbs.
GVWR 3,500 lbs.
MSRP, Base $24,591-$25,675
---
With her small bunkhouse travel trailer in tow, Kerri Cox has traveled near and far with her husband and two teenage sons, documenting their adventures on her blog, Travels with Birdy. When not on the road, she spends her time teaching and writing. Her words and photographs can be found in print and digital publications, including Trailer Life and the Good Sam Club Blog.
---