Whether entry-level gas or luxury diesel, today's family-friendly motorhomes offer something for everybody
To the uninitiated, the world of motorhomes must seem a strange and complicated one. There are bus conversions, motorhomes built on Class A or cab and chassis platforms, and, well, Class B's. Some have engines in the front, some in the back; some are gas, some are diesel. Perhaps strangest of all, however, is an unwritten rule that often dictates a family's buying choices: The largest Class A models are designed for traveling couples, and modestly sized Class C models are crafted for kids. We get it – Class C's have that big overhead bunk, and when fitted with a sofa bed and a convertible table, a sizable family can travel (and sleep) in relative comfort. But what if you want something larger and more luxurious? Is there a sweet spot between capacity and comfort? You betcha – and they call it a bunkhouse.
As the name would imply, these are motorhomes that have a dedicated bunk area in addition to the usual convertible sleeping spaces. Of course, the concept isn't totally new; it started with travel trailers, and has been gradually working its way into motorhomes.
What's interesting is that this option isn't limited to value-priced models, either – it is possible to spend more than a cool million on a bunkhouse diesel pusher if you feel so inclined. So to give you an idea of what's available, we've put together a list of some of the newest, most popular models on the market today. Keep in mind that we're essentially staying away from traditional Class C's in this one because, well, an overhead bunk is their reason for being. The idea is to amaze and amuse you with some cool motorhomes you wouldn't expect could fit the whole family.
Fleetwood RV

Discovery 38N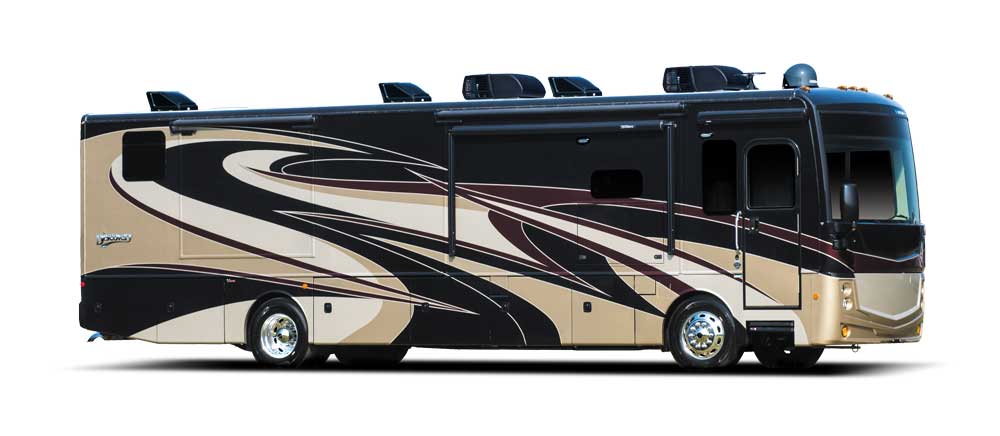 Packing unexpected features into a motorhome is easy when the sky's the limit – but when you're competing in the hotly contested mid-priced diesel-pusher market, the right balance of luxury and value is what separates a top-seller from next year's clearance model. Fleetwood's Discovery 38N gets it right in all the right places. A full-wall streetside slideout opens the living space front to rear, providing the feeling of abundance and luxury that is enhanced by a 7-foot interior ceiling, gleaming tile floors, polished solid-surface countertops and hardwood cabinet doors/drawers. A roomy galley in the opposing slide incorporates a 22-cubic-foot residential refrigerator, while the sofa bed and 44-by-72-inch dinette provide plenty of entertainment space. The two 28-by-73-inch bunks are located directly across from the amidships full bathroom, leaving the bedroom suite – with its separate bath and king bed – to Mom and Dad.
Chassis Freightliner XCM
Engine Cummins ISB 6.7L diesel
Horsepower 340 @ 2,400 rpm
Torque 700 lb-ft @ 1,500 rpm
Exterior length 38′ 8″
Exterior height 12′ 10″
Notable standard features King bed, Firefly Integrations electronic control system, Aqua-Hot 400D hydronic heating system, water filtration system, central vacuum system, solid-surface kitchen counter­tops, full-body paint
Available options L-shape sofa, exterior entertainment center, queen drop-down bed, KING stationary satellite dish, roof vent covers
Approximate retail price (base) $298,840
Fleetwood RV | 800-854-1344 | www.fleetwoodrv.com
---
Forest River

Legacy 340BH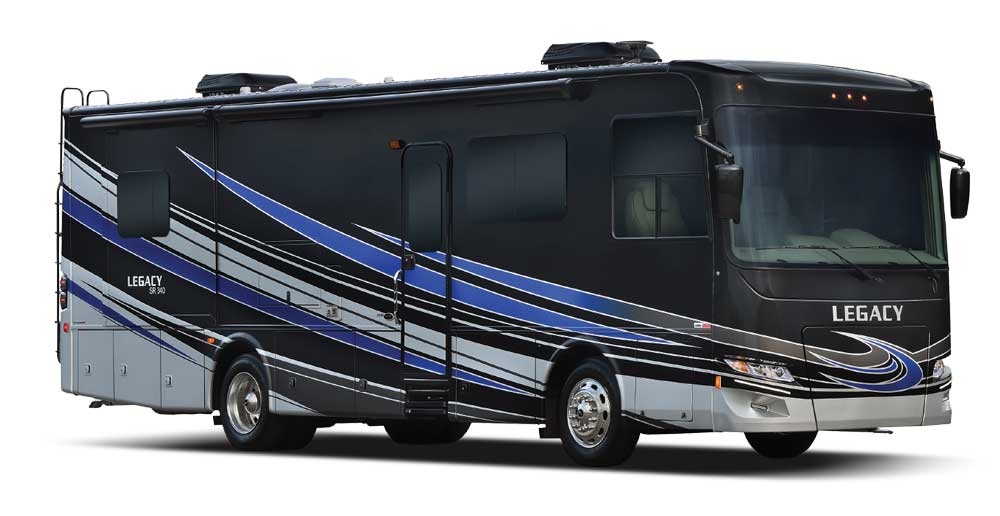 If you've been shopping for a well-equipped Class A for your family, but didn't think you could afford a diesel pusher, check out Forest River's Legacy 340BH. Featuring a full-wall streetside slide, the Legacy makes for easy entertaining with a large booth dinette positioned across from a 68-inch sofa. The streetside galley, a somewhat uncommon feature these days, features a solid-surface countertop with a ton of workspace offered by the stove and sink covers. An overhead residential microwave and opposing stainless-steel refrigerator, combined with abundant drawer and cabinet space, provide all the comforts of home. Toward the rear of the coach in the same slideout is a plush pair of 30-by-73-inch bunks, each with its own 20-inch TV and accordion-style doors that turn the space into a cozy sanctuary. The amidships bath is logically located across from the bunks, and the bedroom features a walk-around queen bed surrounded by cabinets, two wardrobes and a chest of drawers in a small curbside slideout. For so-named "Super C" bunkhouse alternatives, check out the Force 35DB and 37BH from Dynamax (www.dynamaxcorp.com), a division of Forest River.
Chassis Freightliner XCS
Engine Cummins ISB 6.7L diesel
Horsepower 340 @ 2,400 rpm
Torque 700 lb-ft @ 1,500 rpm
Exterior length 36′ 2″
Exterior height 12′ 4″
Notable standard features Multiplex wiring controls, Magnum 2,000-watt Pure Sine Inverter with Auto Gen Start, full-body paint, Truma AquaGo water heater, Samsung HDTVs, double locking insulated baggage doors
Available options Electric Easy-Bed (cockpit area), plank wood vinyl flooring
Approximate retail price (base) $240,435
Forest River Inc. | 574-522-3693 | www.forestriverinc.com
---
Foretravel

ih-45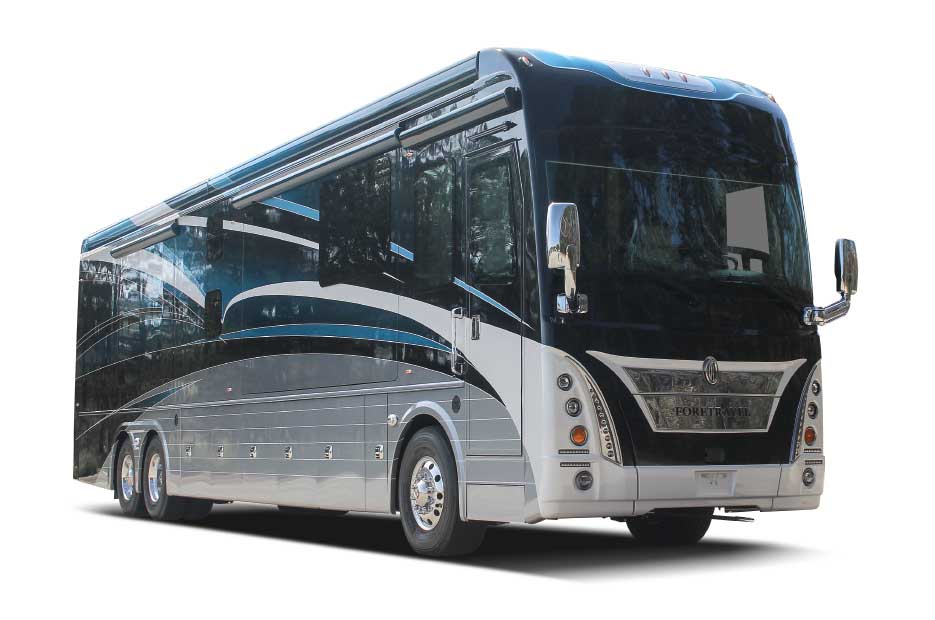 If you've always dreamed of taking the family on the road to discover America, or even to live full-time, the Foretravel ih-45 spares nothing in the way of amenities, technology or comforts. It is, for all intents and purposes, your own personal tour bus, sans the bedraggled roadies and fast-food wrappers. Each ih-45 is built to order from one of five basic floorplans with a list of standard features you didn't even know you wanted, but are sure nice to have. The FP5 is the bunkhouse model, which offers a cozy L-shape front lounge, behind which is a state-of-the-art galley with two-burner induction cooktop, GE Advantium convection/microwave oven, GE Café Series refrigerator with built-in Keurig K-Cup coffeemaker, and natural quartz countertops. An amidships half bath accommodates the bunk bed sleepers, while Mom and Dad will no doubt get restful sleep on their Slumber Ease king bed. All the way at the rear is the master bath suite with a single vanity and large residential shower. There's so much more to talk about, but really, you need to see an ih-45 to believe it. Of course, if a million-dollar-plus coach is too rich for your blood, there's also the amazingly well-equipped Realm FS6 Luxury Villa Bunk (LVB) model built on the Spartan K3-GT chassis and powered by a 600-hp Cummins diesel.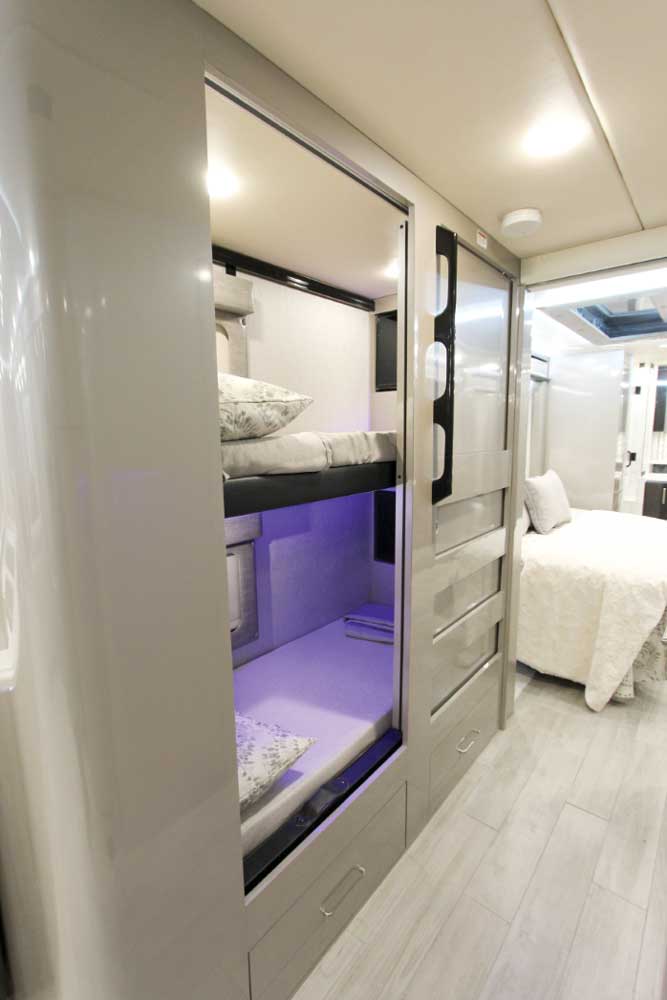 Chassis Foretravel Travelride III chassis by Spartan
Engine Cummins ISX diesel
Horsepower 605 @ 1,800 rpm
Torque 1,950 lb-ft @ 1,100 rpm
Exterior length 45′
Exterior height 13′ 2″
Notable standard features Flush and pneumatically sealed slideout rooms, electric sliding cargo trays, full-body paint with clear coat, one-piece CosmoLite roof, Xenon low beam/LED high beam headlamps, nine cameras (backup, four perimeter, sideview mirrors, forward-facing and interior), residential Villa six-way power seats with foot and headrests (Knoedler air ride for driver), SilverLeaf Electronics 12-inch digital glass dashboard, 5.1 surround sound in living room, stereo sound in bedroom and patio, iPad with Crestron integration for A/V and SilverLeaf controls, central vacuum system, water filtration system, CAT6 network cabling
Available options Solid walnut or African mahogany cabinetry, outdoor entertainment package, in-motion satellite, drawer dishwasher, wine chiller, trash compactor, washer/dryer (combo or stacked)
Approximate retail price (base) $1.4 million
Foretravel Motorcoach | 800-955-6226 | http://foretravel.com
Motorhome Specialist RV (exclusive dealer of the Foretravel Realm FS6)
800-335-6054 | www.mhsrv.com
---
Jayco

Alante 31R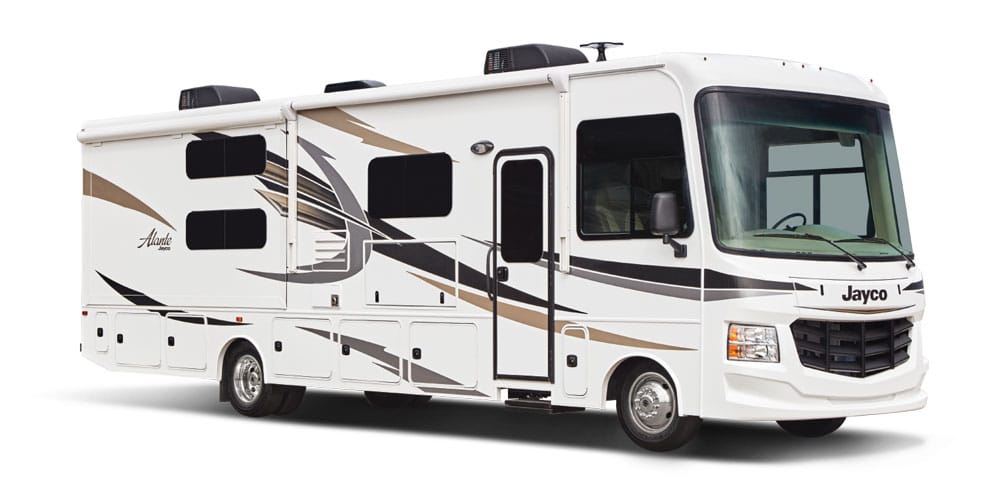 Jayco's Alante 31R is a classic Class A motorhome with a few interesting twists. The simple white gelcoat exterior belies an inviting living space with rich earth tones in either Chambray or Nantucket décors, and faux-wood plank flooring that lends a beachy vibe. A streetside slideout houses a fixed dinette, but also contributes to a noteworthy and effective kitchen layout that quite literally wraps around you when the slideout is deployed. The bunk beds, each equipped with a TV, are located in a curbside slideout directly across from a good-sized bathroom, and offer privacy curtains when it's time for some shuteye. The rear bedroom features a walk-around queen bed, as well as dual wardrobes and a dresser with optional TV. An available drop-down bunk above the driver's compartment brings the Alante's total sleeping capacity up to 10.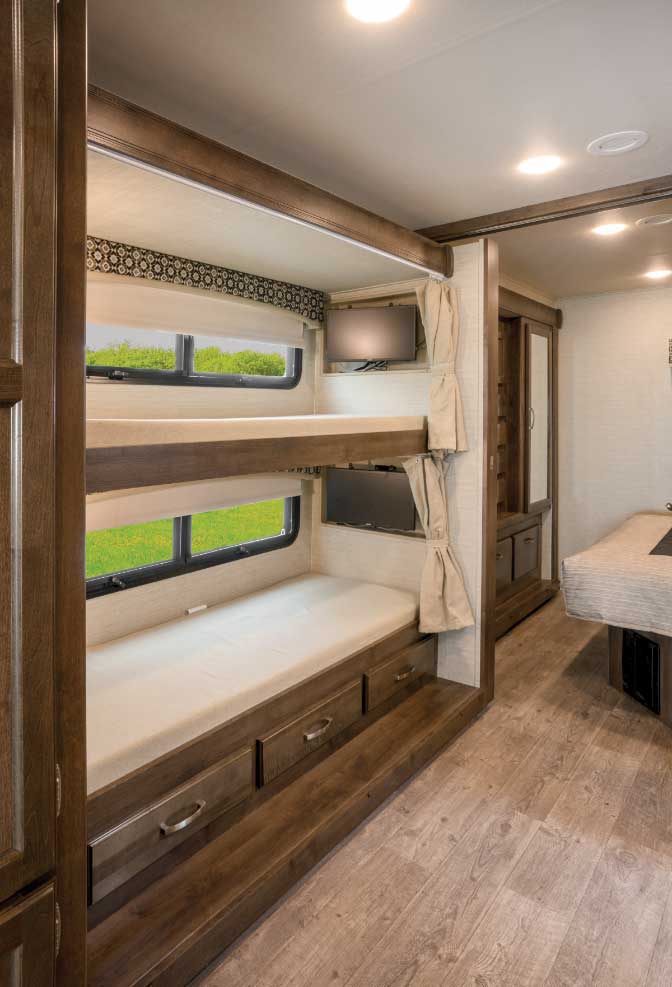 Chassis Ford F-53
Engine Ford 6.8L V-10 gas
Horsepower 320 @ 4,000 rpm
Torque 460 lb-ft @ 3,000 rpm
Exterior length 34′ 10″
Exterior height 12′ 5″
Notable standard features Walk-around queen bed, bunk beds with TVs in each bunk, 13-foot awning, outside entertainment center, JRide (Hellwig helper springs, rubber isolation body mounts, Billstein shock absorbers, jounce bumpers, stabilizer bars and computer-balanced driveshaft)
Available options Drop-down cab overhead bunk
Approximate retail price (base) $130,971
Jayco Inc. | 574-825-5861 | www.jayco.com
---
NeXus RV

Maybach 37M
It may be named after a famed ultra-luxury car, but it costs roughly half as much and you can live in it very comfortably. So take that, Mercedes. The 37M stands out with its full-body paint and graphics, but it's more than just a pretty face. An abundance of basement storage features semi-pass-through compartments, and fully automatic leveling jacks come standard. Inside, Beauflor vinyl flooring lends a homey touch, with warm tones that complement the glazed maple residential-style cabinets. A large streetside slideout incorporates a sofa and fixed dinette, with a 50-inch flatscreen on the rear feature wall. The bunk beds are located in a curbside slideout, right across from a half-bath in the middle of the interior. At the rear, the master suite boasts a walk-around king-sized bed and a full bath with shower.
Chassis Ford F-53
Engine Ford 6.8L V-10 gas
Horsepower 320 @ 4,000 rpm
Torque 460 lb-ft @ 3,000 rpm
Exterior length 37′ 5″
Exterior height 12′ 5″
Notable standard features Full-body paint, slideout toppers, seamless fiberglass roof, Azdel Composite substrate, steel cage, 50-amp service, water filtration system, washer/dryer prep
Available options Theater seating, MCD Innovations roller shades, in-motion satellite system, outside entertainment center, electric fireplace
Approximate retail price (base) $151,898
NeXus RV | 855-786-3987 | www.nexusrv.com
---
Renegade RV

Valencia 38BB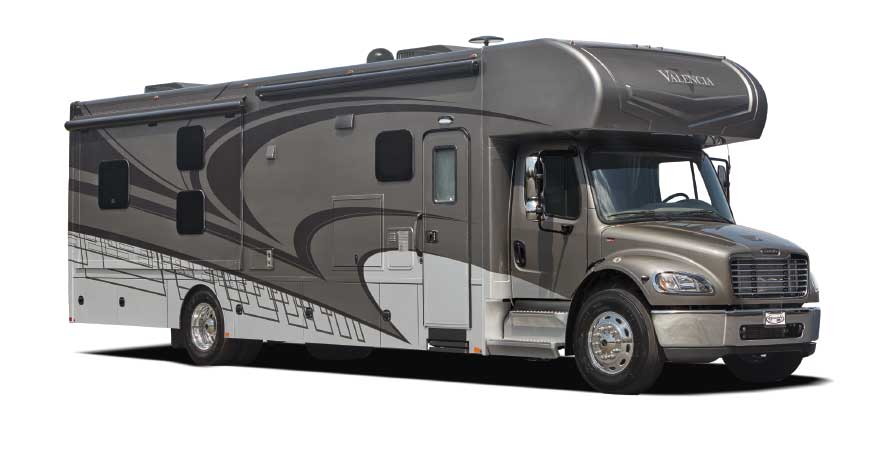 Do you gaze longingly at semi trucks, wondering what it might have been like to be a big-rig driver? If so, the Valencia 38BB from Renegade RV could be your dream incarnate. Riding on the Freightliner S2RV chassis and sporting a front-engine diesel, this "Super C" is uniquely qualified to accommodate your friends and family in heavy-duty comfort. Above the cab is a 60-by-80-inch bunk, and both a fixed dinette and sofa reside in the streetside slideout. On the opposite wall, a compact but well-equipped kitchen features a solid-surface countertop and sink, plus residential appliances like the stainless convection microwave and 19-cubic-foot refrigerator (washer/dryer prep is standard as well). The dual 30-by-77-inch bunks feature their own TVs and privacy curtains, and are located across the hall from the nicely equipped bath area. The rear sleeping quarters feature a 72-by-74-inch king bed with nightstands and overhead cabinets, plus a dresser, two closets and a 32-inch TV. For an even bigger bunkhouse experience, consider the Renegade Verona 40VBH or Renegade XL X45BB.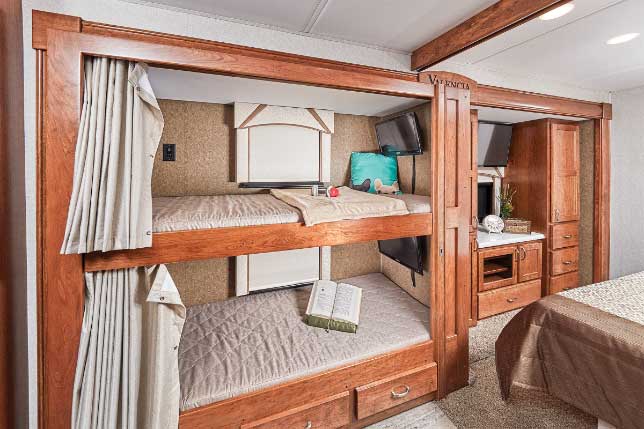 Chassis Freightliner S2RV
Engine Cummins ISB 6.7L diesel
Horsepower 360 @ 2,600 rpm
Torque 800 lb-ft @ 1,800 rpm
Exterior length 38′ 2″
Exterior height 12′ 6″
Notable standard features Full-body paint, powder-coated steel storage compartments with carpet, frameless tinted windows, Equalizer Systems four-point leveling, 8-kW generator, 2,000-watt inverter, power-retractable 50-amp power cord reel, air ride driver/front passenger seats, exterior entertainment system, solid hardwood cabinetry
Available options Stackable washer/dryer, theater seating, Winegard in-motion satellite system, power retractable hose reel
Approximate price range (base) $229,500
Renegade RV | 574-966-0193 | www.renegaderv.com
---
Thor Motor Coach


Aria 4000
In an opera, an aria is a long song for a solo voice, usually one that is accompanied by an orchestra. In the RV world, the Aria is a Class A diesel pusher – but if luxury travel is on your agenda, it's likely that you and your family will be singing its praises. The Aria 4000 is loaded with all the features you'd expect in a coach of this class, plus a few you may not. For example, the rear master suite houses not only a king bed, but a Tilt-A-View inclining mattress so you can sit up and watch the 32-inch LED HDTV in supreme comfort. And, the rear master bath offers dual vanities, plus a shower, toilet and linen closet. Just a few steps forward of the bedroom are dual 28-by-74-inch bunk beds, which enjoy direct access to another full bath just across the hall. A full-wall slideout curbside gives the Aria's living space the feel of a downtown high-rise apartment, with its gleaming floors, dark cabinets and abundance of LED lighting. An 88-inch Dream Dinette opposes the contemporary galley and a 70-inch sofa bed, and if that's not enough sleeping space for the family, a 48-by-76-inch bunk with a Cotton Cloud mattress drops down from above the driver's compartment. For a lower-cost bunkhouse alternative, consider Thor's Windsport 34J.
Chassis Freightliner XC-R
Engine Cummins ISB 6.7L diesel
Horsepower 360 @ 2,600 rpm
Torque 800 lb-ft @ 1,800 rpm
Exterior length 40′ 11″
Exterior height 12′ 6″
Notable standard features 16-cubic-foot stainless-steel residential refrigerator with icemaker, 50-amp service, Air-Ride suspension, dual 15,000-Btu air conditioners, exterior 39-inch LED TV with sound bar and Bluetooth, multiplex wiring, stackable washer/dryer
Available options 32-inch LED TV in cockpit overhead
Approximate retail price (base) $296,940
Thor Motor Coach | 800-860-5658 | www.thormotorcoach.com
---
Winnebago Industries

Forza 38W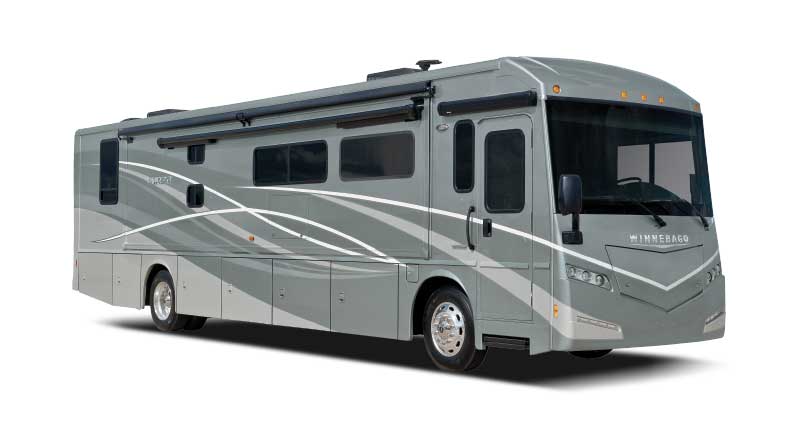 "Cozy and contemporary." Those are the words that come to mind when we think of Winnebago's new family-friendly Forza 38W. It's got the modern feel so popular in today's diesel pushers, with the unexpected surprise of a streetside entertainment center featuring a 48-inch HDTV with home theater sound bar system and an electric fireplace, standard. And, it's all located directly across from a Flexsteel Fold-N-Tumble 60-by-73-inch sofa and 40-by-70-inch BenchMark dinette so you won't miss a moment of your favorite movie. Meal prep will be a breeze in the well-appointed galley, featuring solid-surface countertops, a stainless-steel microwave/convection oven and Whirlpool refrigerator. Located smack dab in the middle of the coach are the bunk beds (28-by-73-inch lower, 26-by-73-inch upper) and a full bath with shower. A sliding door separates the kids from Mom and Dad's master suite, which features a 60-by-80-inch queen bed, large wardrobe, flip-down TV and a rear full bath with washer/dryer prep space. Expecting unexpected guests? Opt for the available powered StudioLoft bed that lowers from above the cockpit.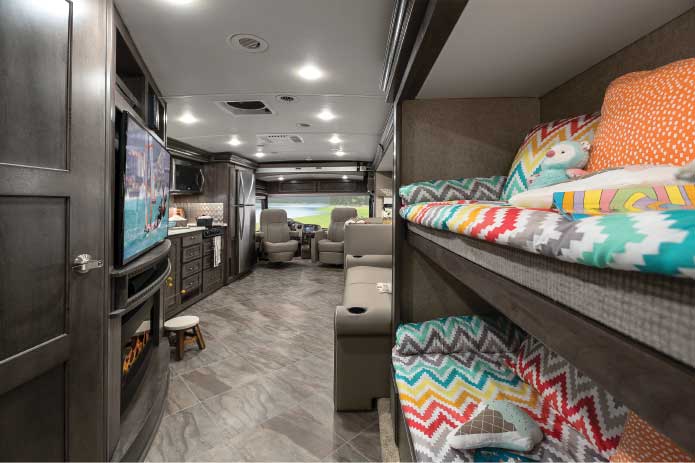 Chassis Freightliner XCS
Engine Cummins ISB 6.7L diesel
Horsepower 340 @ 2,400 rpm
Torque 700 lb-ft @ 1,500 rpm
Exterior length 39′ 9″
Exterior height 11′ 11″
Notable standard features Tinted, dual-glazed windows; KeyOne lock system; dual 15,000-Btu air conditioners; 2,000-watt inverter/charger; 6-kW generator; four deep-cycle batteries; water filtration system
Available options Washer/dryer, powered StudioLoft, Truma AquaGo instant water heater, exterior entertainment center with 32-inch TV
Approximate retail price (base) $243,338
Winnebago Industries | 641-585-3535 | www.winnebagoind.com
---