Little Rock, Ark., and the surrounding areas are always abuzz with activity.
The city is packed with great attractions like the Clinton Museum and the bustling River Market District.  And just outside the city limits lies a bounty of fantastic outdoor opportunities.
Just northwest of Little Rock lies Pinnacle Mountain State Park is simply stunning.  The park features fantastic trails and gorgeous overlooks for those willing to hike a bit.  The trials range from low and easy paths along the Arkansas River to strenuous hikes to the summit of Pinnacle Mountain.  If you're up for a good hike, a sunrise view from Pinnacle Mountain is one fo the best in Arkansas.
The best thing after a good hike is some great grub!
Sometimes nothing beats a slice of pizza, and Zaza Pizza in Little Rock is some of the best in the area.  Perfectly charred wood fire pizzas, however, are just one of the treats.  The local favorite routinely wins local awards for their unique salads like the Greek Tuna and the Tandoori Chicken.  Top off the trip with some of their famous pistachio gelato and you've got yourself one great meal.
Hiking and pizza aren't typically the first thing people think of when they hear Little Rock.  No, the first thing most people think of is President William J. Clinton.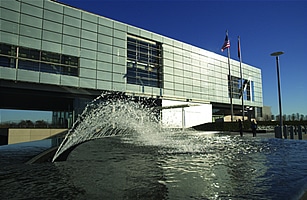 Visitors to the area don't need to be a fan of Bill Clinton's politics to enjoy the Clinton Presidential Center, the mix of recent history and the look inside the White House is simply stunning.  Everything from the Hillary Clinton's inaugural gown to the presidential dishes are on display. Scores of photographs, buttons, letters and other odds and ends from the presidency and the two campaigns fill the expertly designed displays.  The building and the grounds are gorgeous as well.
There are a lot of quality RV parks around Little Rock, but the KOA in North Little Rock is a great spot to set up a home base.  Sitting between Pinnacle Mountain State Park and Little Rock, it's a central location with all the RVing amenities you'll want.  The park gets good marks for easy access and a clean atmosphere, the many trees and long lots are a great bonus.