North to Alaska, The Second Leg: Dawson City, Yukon Territory, to Homer, Alaska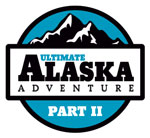 Alaska, here we come! After 10 days on the road (from Mile 0 of the Alaska Highway in British Columbia to Dawson City, Yukon Territory), my husband, Arjun, and I can't wait to cross the border and see some of Alaska's most iconic locations: Fairbanks, Denali, Anchorage and Homer.
Day 11: Dawson City, Yukon Territory, to Chicken, Alaska (109 miles)
It's a 30-minute ride on the George Black Ferry across the Yukon River, and once we're across it, we're on the road said to be the roughest and toughest of the trip. Going to Chicken is not for the chicken-hearted. Devoid of any services, we filled up before leaving Dawson City, and start climbing a long and winding, dusty gravel road known as the Sixty Mile region. Gold was discovered here in 1896. Starting as a pack trail in 1902, it then became a wagon trail and in 1951 rebuilt as the Top of the World Highway (also known as Taylor Highway and Yukon Highway 9).


We have 109 miles to go and most of the road is rough dirt with mud, loose gravel, pot holes, washboard surfaces, frost heaves, hairpin bends and steep grades – a real challenge for motorhome drivers. Our speed drops to a slow 5 mph to 25 mph.


The landscape is tundra-like, almost treeless, with mountains and rolling hills. A sense of isolation exists here and the possibility of a flat tire or damaged suspension is worrisome. Barely two lanes wide, the road is under constant repair. Occasionally, huge multiwheeler trucks carrying heavy loads of rock pass us at high speed, uncomfortably close. Unfortunately, a large stone breaks loose from one, hits and badly cracks our windshield.

Passing several abandoned cabins along this lonely road, we arrive at the Little Gold Creek border station. The border crossing is open 9 a.m. to 9 p.m. from May 15 until late September or October, depending on the weather. There's no phone service here, so check before leaving Dawson City.
We've crossed into Alaska at last! Our total miles covered since Mile 0 is 1,272 miles. We set our watches back one hour. A cold, gusty wind blows and we take a short lunch break inside our motorhome and admire the breathtaking "top-of-the-world" views stretching out forever in every direction.

The road continues to be challenging. Seventy miles after the border crossing, we pass an old log cabin, Boundary Lodge, one of the first roadhouses in Alaska. Nearing Chicken, the road narrows, deteriorating rapidly as we negotiate several hairpin bends, pass tiny downtown Chicken, before entering Chicken Gold Camp (520-413-1480, www.chickengold.com). Well laid out with full hookups, a restaurant and gift shop, Mike and Lou Busby have been the owners for 35 years.
A huge, gray dredge is the central attraction. At an outdoor pavilion near the dredge, Mike tells us about Old Pedro Dredge, built in 1938. He bought it in 1998 for $1, and moved the giant here in one piece. It's now in the National Register of Historic Places. Although not used anymore, the Busbys insist there's still plenty of gold in the area, and have gold-panning facilities for anyone wanting to try their luck.

Gold was discovered here in 1886, and the town grew rapidly. With food being sometimes scarce, the residents hunted a bird called ptarmigan, which tasted like chicken. In 1902, the town was ready to be incorporated, but didn't have a name. The town's people wanted to call it Ptarmigan, but couldn't agree on the spelling, so eventually, they settled on Chicken. Today, fewer than 10 residents live here year-round and brave the winter.
Day 12: Chicken to Tok (78.3 miles)
On the road again, and still on the Taylor/Top of the World Highway, we head west to Tok. Not unexpectedly, we encounter broken blacktop, pot holes and steep, winding grades, but we're amply compensated with majestic views of the Alaska Range.

We cross Mosquito Fork Bridge and Fortymile Wild and Scenic River. Signs alert us that we have entered one of the largest caribou crossing areas. The Taylor Highway ends at a T-junction and we turn west (right), to rejoin the Alaska Highway, (now Route 2).

Entering Tok, called "the gateway to Alaska," we fill up with fuel, happily noting the cheaper U.S. gas prices and check in at Tok RV Village, (800-478-5878, www.tokrv.net). Our gas receipt allows for a free wash of our coach and dinghy, and it becomes a party as the entire Adventure Caravans group washes each other's rigs.

Tok RV Village has a high Good Sam rating of 9/10/9.5, with 161 partially wooded, full-service sites. The park will hold mail if you're reserved here, and a packet from home awaits us. It's time to relax and the group gathers for dinner next door at Fast Eddy's.
Day 13: Tok to Fairbanks (206 miles)
Leaving the RV park and turning onto Alaska Highway Route 2, feels like we're back in the Lower 48 – this is a real road! Crossing the Johnson River Bridge, we're treated to a marvelous view of Mount McKinley.

Delta Junction, at historic Mile 1422, is situated near the confluence of the Delta and Tanana rivers, and is the official end of the Alaska Highway. (The Richardson Highway to Fairbanks begins here.) The Tourist Information Center is the perfect place to take photos that say, "We did it!" We buy souvenirs and postcards to send home, and a sticker that reads, "I Survived the End of the Alaska Highway!" to proudly paste on our motorhome.

On the Richardson Highway heading southeast to Fairbanks, we pass a cow moose feeding in a roadside pond.

It's lunchtime, so we stop at the 1910 Rika's Landing Roadhouse on the banks of the Tanana River. We order a soup and sandwich at the Packhouse Restaurant, then tour the gardens and house (now a museum). There's a great view of the Big Delta Bridge and the Trans-Alaska Pipeline from here.

Fourteen miles southeast of Fairbanks, we take a detour to the town of North Pole, with streets named Santa Claus Lane and St. Nicholas Drive. A colossal Santa stands visible from the road. Decked out year-round for Christmas, Santa Claus House (www.santaclaushouse.com) sells a marvelous assortment of Christmas ornaments, apparel and collectibles. Letters from children around the world are on display; their hopes, wishes and sometimes-long lists of presents asked from Santa, are touching. One said, "Dear Mrs. Claus, thank you for having such an awesome husband."

Reaching Fairbanks, we check in at River's Edge RV Park (800-770-3343, www.riversedge.net/fairbanks-rv-park), a highly rated full-service campground.

Fairbanks is a good place to have some problems fixed on our rig. We need to replace two front tires, which were damaged while traveling the Top of the World Highway, and a front suspension alignment. The cracked windshield will have to wait.
Day 14: Fairbanks
Early the next day we're bussed to Steamboat Landing, a replica gold-rush-era port on the Chena River. We board the sternwheeler Discovery III (www.riverboatdiscovery.com), a period-style vessel owned and operated by the Binkley family for five generations.

We watch a floatplane demonstration as the sternwheeler takes us on a leisurely three-hour cruise. Pausing at Trail Breaker Kennels, home of the late internationally acclaimed Susan Butcher, her husband Dave Monson tells the touching story of Granite, the runt of the litter. With Susan's loving care, he became an Iditarod champion. Susan was a four-time winner of the 1,100-mile Iditarod, and the first person to reach Mount McKinley's summit with a dog team.
Stopping at the Chena Indian Village, we learn about the ancient Athabascan culture and lifestyle. We take a tour of a typical native village with spruce log cabins and an authentic birch canoe. Animal pelts are used to make warm clothing, and our guide, Janessa, models a beautiful, ultra-warm winter parka.

Farther downstream, we see the "wedding of the rivers." The clear Chena's waters, and the silt-laden, grayish glacial-melt waters of the Tanana, called Glacial Flower, join and flow alongside for some distance before merging into one.

Back at Steamboat Landing, the group returns to the RV park and then heads to the Pump House Restaurant, next door, for a sumptuous lunch. Back on the bus, we're off for an up-close look at the Trans-Alaska Pipeline.

Boarding a replica narrow-gauge Tanana Valley Railroad car, we ride to Gold Dredge 8 while the conductor entertains us with gold-rush stories. After a review of how the dredge works, we try our hand at panning and find tiny slivers of gold. When weighed, we're $24 richer – enough to buy a couple of bags of food for our dog Reggie! After complimentary coffee and fresh-baked cookies, we reboard the rail cars back to the bus and the campground.
Day 15: Fairbanks
Day two in Fairbanks, and the bus takes us to the University of Alaska Museum of the North. Its displays focus on the Arctic people's history, animals and lifestyle, including the geological and archaeological past.

At the Ice Museum, we watch an ice-carving demonstration. In a large room (kept below freezing and lit with colored lights), there are ice-carving displays: Eskimos, a log cabin, dog sleds with dogs, bears and more. It's cold and we're glad to get outside into the sun.

In the evening, we're booked at Pioneer Park for its famous Alaska Salmon Bake buffet dinner. Salmon, prime rib and beer-battered Bering Sea cod are all cooked to perfection. After strolling through gift shops, at 8:15 p.m. we attend a show at the Palace Theatre. The "Golden Heart Revue" entertains us with hilarious stories about the colorful characters of the early gold-rush era.
Day 16: Fairbanks to Coldfoot (day trip)
At 8 a.m., Arjun and I board a small Air Arctic plane and fly about 250 miles north along the Brooks Range to Coldfoot, 63.5 miles north of the Arctic Circle. Then a van takes us from the tiny airport to Wiseman, a community of about 14 people. Local resident Jack Reakoff welcomes us into his solar-powered log home and describes their self-reliant lifestyle. They hunt for meat and grow vegetables during the long days of short summers, then store them for winter in their basement freezer, dug deep into the permafrost. Outhouses and pit toilets are the norm. Imagine using them during the bitterly cold minus-70-degree winters!

After our tour of Wiseman, we return to Coldfoot Airport and board the plane back to Fairbanks.
Day 17: Fairbanks
Today we head 62 miles northeast to the famous Chena Hot Springs Resort (www.chenahotsprings.com). Fed by its own geothermal system, the water circulates 3,000 feet or more, deep underground, and sucks up the earth's heat and minerals. It resurfaces through cracks and fractures. This is a great place to relax in the warm, soothing waters.
Day 18: Fairbanks to Denali (110 miles)
Leaving the RV park early, we drive through steeply graded terrain, then cross the Tanana River Bridge. At 3,300 feet, it's the longest bridge in Alaska. When the weather changes, the bridge squeaks as it expands and contracts.

The road runs along the picturesque Nenana River Valley, and we see rubber rafts negotiating the swift rapids through the deep gorge. We enter Denali RV Park (907-683-1500, www.denalirvpark.com), a full-service campground and our home for the next two nights. Unhooking our dinghy, we visit the National Park and then dine at the Lucky Miss Saloon, a cozy fireside restaurant in Denali Village.
Day 19: Denali National Park and Preserve (bus tour)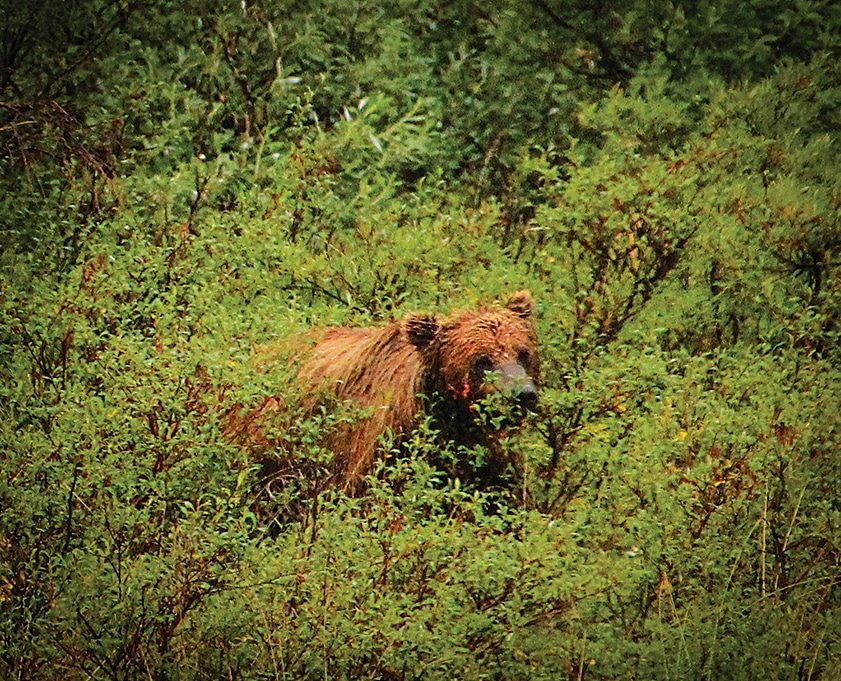 At 6:30 a.m. we board the bus for a 13-hour, 92-mile tour deep into the heart of Denali National Park and Preserve. Embracing 6 million acres, it is huge. It's also cloudy, rainy and foggy, and the chance of seeing Mount McKinley isn't very good. McKinley's two summits rise above the Denali Fault. This colossal granite mass, pushed up about 60 million years ago, has its own weather, so most of the time there's only a 30 percent chance of seeing it.

Regardless of the bad weather, visitors line up to enter the park. Only the first 15 miles are drivable for private vehicles. Shuttle or tour buses can go deep into the park. Wet and foggy, with steep gorges on either side, the road is narrow and intimidating. Our windows get caked with mud, and our driver, David, stops frequently to wash them.

The rain eases and we disembark for an incredible view of Polychrome Pass from the Mile 46 overlook. The mountain, sculpted with layers of multicolored rock and soil, resembles a painting. Reaching the Eielson Visitor Center at Mile 66, we stop for a tour and movie, "Climbing Mount McKinley." The 2014 climbing season saw 1,204 attempts with a summit rate of 36 percent.

Originally a tent facility, the center is named after pioneer Alaskan aviator Carl Ben Eielson, a bush pilot who flew the first airmail service from Fairbanks to McGrath in four hours, a distance that took dog sleds 20 days to cover.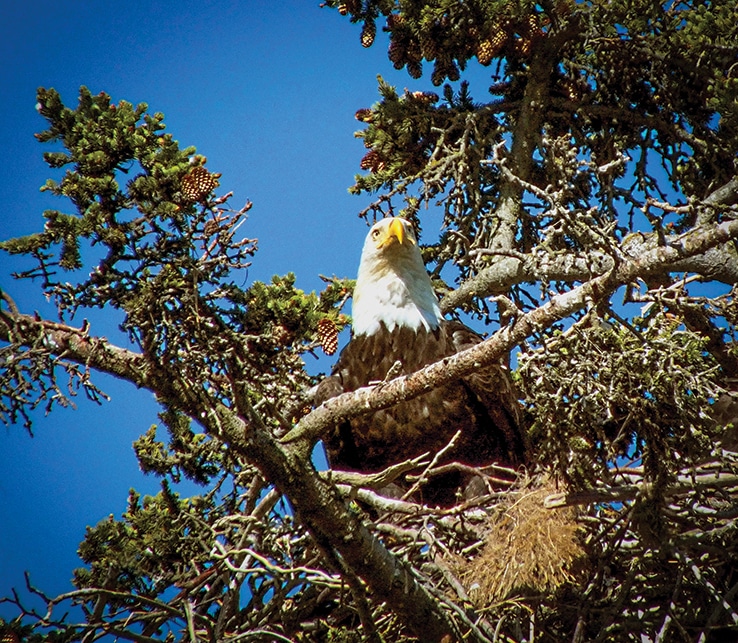 Deep inside the park, at Mile 92, the road ends at Kantishna, a former gold-mining town. After lunch at the Denali Backcountry Lodge, the bus takes us back on the same road. An expert spotter, David stops often, and points out grizzlies with cubs and caribou, including a bull with enormous antlers.
Day 20: Denali
Today we're going white-water rafting on the Nenana River. At the Denali Outdoor Center we don cold-water survival suits, zip up from toe to neck, put on helmets and attend a safety orientation. Then off we go! Down at the river we get into the raft and strap up for a tumbling 11-mile ride along the rapids. Dwarfed by lofty canyon walls, the turbulent water rushes us along. It's an unforgettable experience!
Day 21: Denali to Anchorage (242.1 miles)
As we head to Anchorage, we turn right onto the Parks Highway 3 south and the weather clears, giving way to cobalt blue skies. We pass Hurricane Gulch Bridge and then stop at a double-ended pullout on the right for awesome views of Mount McKinley.

By afternoon, the scene has changed. We're back in civilization and its traffic lights, road repairs and people. At Mile 199, we drive through Wasilla, on to a divided four-lane highway and merge onto Alaska Highway 1 to Anchorage and check in at the spacious, full-service Golden Nugget RV Park (800-449-2012, www.goldennuggetcamperpark.com)
Day 22: Anchorage
Anchorage is the state's largest city. We visit the Alaska Native Heritage Center, a showcase of Alaska's tribal history and artifacts from the Alutiiq, Tlingit, Haida, Tsimshian and Athabascan cultures. Artists skillfully create traditional crafts and jewelry. The fine-art gallery features displays of native artwork unique to their culture.

The world-class Anchorage Museum at Rasmuson Center, located downtown, is one of Alaska's Top 10 visitor attractions. Exhibits include the Alaska Gallery, Alaska Native Culture, the Imaginarium Discovery Center and 600 rare Alaskan artifacts on loan from the Smithsonian Institution.

An evening dinner and show is arranged for us at the Alaska Wild Berry Park and Theater. Inside the Wild Berry Store, a chocolate fountain cascades 20 feet into a chocolate pool. The company also makes jams, jellies, candy and other goodies, which customers can watch through large viewing windows.

Next door is the Sourdough Mining Co. Restaurant. Resembling an old mill house, it's decorated with historic mining photos and mounted wildlife. Seated at long wooden tables, we're served Alaskan chowder, barbecued ribs, steak and chicken. Finally, there's an unlimited ice-cream bar.

Dinner done, we walk to a rustic cabin next door where Dusty Sourdough entertains us with songs, recites poetry and tells stories about the pioneer days.
Day 23: Anchorage to Homer (226.1 miles)
On Seward Highway 1 South, (Alaska Routes 1 and 9), we're heading to the Kenai Peninsula and Homer. The road along Turnagain Arm and Cook Inlet extends from Anchorage to Portage Glacier, and is considered one of the world's most scenic drives. Flanked by the 3,000-foot-high Chugach Mountains on the left, and the 4-mile-wide Cook Inlet on the right, it is an unforgettable driving experience.

We take time to enjoy the drive and views of the Kenai Mountains. The scenery is a feast for the eyes.  
Surrounded by unspoiled forests and lakes, we continue along the 150-mile-long, 70-mile-wide peninsula, bordered on the east by the Gulf of Alaska and on the west by the Cook Inlet.

At Girdwood Junction, a 60-passenger tram transports visitors to the summit of Mount Alyeska and the Alyeska Resort, a premier ski resort. At 2,300 feet, views from the observation deck are incredible. The vastness seems to go on forever.

This is beauty at a price! It's a high-risk earthquake region. During the severe 9.2 magnitude 1964 Good Friday earthquake, Girdwood dropped about 8 feet and was later relocated to its present location.

About 47 miles south of Anchorage, the 140-acre Alaska Wildlife Conservation Center provides treatment for injured and orphaned wildlife. The wood bison, once thought to be extinct, are a major attraction here.

From the Kenai Information Center, we turn toward Portage Glacier and Whittier Tunnel, then cross the isthmus separating Kenai Peninsula from the rest of south-central Alaska.

Surrounded by unspoiled forests and lakes, we continue along the 150-mile-long, 70-mile-wide peninsula, bordered on the east by the Gulf of Alaska and on the west by the Cook Inlet. Our destination is Homer Spit, an ancient glacial moraine. Fierce winter storms and violent waves would have washed this fragile land strip away eons ago if humans hadn't intervened by constructing protective, sturdy rock fortifications. The deep-water harbor provides safe anchorage during turbulent weather.

Turning right onto Sterling Highway Route 1, toward Homer, bright purple fireweeds and white cow parsnips grow profusely along the roadside. Reaching Ninilchik Village, which means "peaceful settlement by a river," we park our coach at the overlook and drive our dinghy to the Holy Assumption of the Virgin Mary Russian Orthodox Church. (The road is narrow, so do not take the RV.) Built in 1895, the church with traditional Russian onion-shaped domes is a national historic landmark.

Anchor Point, Mile 206.7, is the most westerly point in the North American Highway system. We stop for a view of the Aleutian Range and Homer Spit. Homer's scenery, relaxed atmosphere and many activities draw visitors form around the world here. Fishing and boating tops most people's list.

Homer is known as the halibut fishing capital of the world, and catching a big one is every fisherman's dream. This large, flat, bottom-feeder, with both its eyes on the same side of its head, is prized for its size and tasty flesh. Charter boats with experienced guides make this an unforgettable adventure, with thrilling fishing tales to take home.

After an incredibly scenic drive, we arrive at Oceanview RV Park (907-235-3951, www.oceanview-rv.com) and settle in to our site.
Day 24: Homer
Today it's lunch at the Saltry Restaurant in Halibut Cove. To get there, we're booked on the Danny J ferry, and arrive at 11:30 a.m. First we must descend down a steep floating ramp. It's low tide, but the ramp will rise 25 to 30 feet at high tide. The sea is slightly choppy and fortunately I remembered to take my motion-sickness pill. Our boat crew is Elsa and Sydney.

The Danny J, an exclusive ferry service for the Saltry Restaurant, starts up and we chug through Kachemak Bay into Halibut Cove, for a 6-mile trip. Halibut Cove evolved from a sleepy fishing village into a delightful community with attractive homes clinging to the wooded hillside. Peaceful and inviting, it's a magnet for artists who have built galleries along the water, connected by a boardwalk.

In the lagoon, we spot seals, sea otters and puffins. On several rocky outcrops, thousands of nesting gulls squabble and feed their young.

In the horizon, we see a line of glaciated active volcanoes, and our guides tell us that Mount Redoubt could blow any time. Docking at Saltry Restaurant, we climb another ramp to an outdoor seating area. Open only during summer, reservations are essential. For starters, we order a seafood sampler tray, then Arjun has a buffalo burger and I have the halibut.

After lunch, we stroll along the boardwalk to the artist's colony.  
Day 25: Homer
Taking a 14-mile drive along North Fork Road Loop, we climb high into the hills for a view of the spit, the volcanic mountain range and the glaciers. Then we explore the Pratt Museum and Homer's historic town center.

It's time to head back to Oceanview RV Park for an expertly prepared Adventure Caravans cookout. At 10 p.m., it's still sunny, so we head back into town. High up in a tree, we spot an eagle's nest and snap photos of this magnificent bird.



It's time to say goodbye Homer, but we're still only about halfway through our great journey in days and miles (23 days and roughly 2,200 miles). Tomorrow we head for Seward, Alaska, and Part III of our adventure.
---