Readers tell us their trusted brands and businesses in Trailer Life's sixth-annual RV survey
No one knows RVs and RVing better than Trailer Life readers. That's why each year since 2012 we've asked you to report on the products you use and the places you love to determine our Readers' Choice Awards, the cream of the crop of the RV realm. Our annual online poll surveys your favorite RVs, tow vehicles and supplies, along with preferred travel and service destinations. The results from last year's ballot have been tabulated, and we're pleased to announce the gold, silver and bronze winners in 30 categories. Congratulations to all of our honorees, and a big thanks to the thousands of readers who shared your knowledge and experience for the benefit of other RV enthusiasts. You're all good as gold.
RVS AND TOW VEHICLES
FIFTH-WHEEL TRAILER
Gold:

Keystone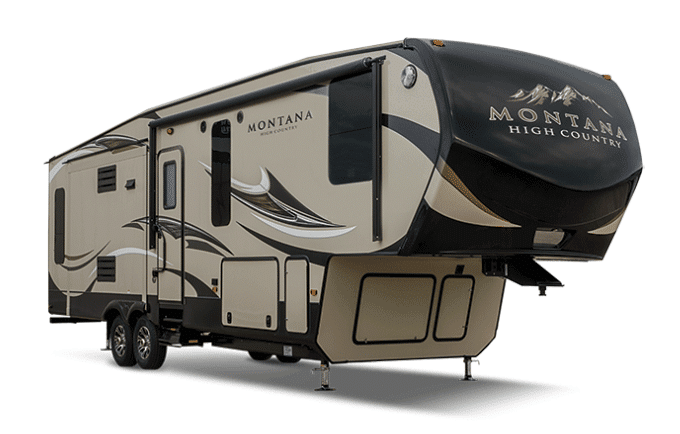 Keystone is North America's number-one manufacturer of fifth-wheel trailers, including the Montana, the top-selling fifth-wheel for the past 15 years. Keystone operates manufacturing facilities in Indiana and Oregon, and has nearly 1,000 North American dealer locations. The company recently introduced a three-year limited structural warranty on new models.
866-425-4369 | www.keystonerv.com/fifth-wheels
Silver: Grand Design
574-825-9679 | www.granddesignrv.com
Bronze: Forest River
574-389-4600 | www.forestriverinc.com/fifthwheels
FOLDING CAMPING TRAILER
Gold:

Jayco
In 1968, its first year in business, Jayco sold 132 folding camping trailers, commonly known as pop-ups. Since then, the company has built more than a million RVs and is now part of Thor Industries. For 2018 Jayco offers four Jay Sport pop-up floorplans with easy-to-use lifting systems. The new Jay Sports are backed by a two-year basic warranty and a five-year tent warranty.
574-825-5861 | www.jayco.com/products/camping-trailers
Silver: Forest River
574-389-4600 |  www.forestriverinc.com/campingtrailers.aspx
Bronze: Aliner
724-237-5227 |  www.aliner.com
TOY HAULER
Gold:

Keystone
Founded in 1996, Keystone is a top manufacturer of towable RVs, including six toy-hauler lines known for their lightweight construction and contemporary decor: Carbon, Cougar, Fuzion, Impact, Outback and Raptor. To keep up with rising demand, the company recently increased its customer-service staff and inventory of warranty parts.
866-425-4369 | www.keystonerv.com/toy-haulers
Silver: Forest River
574-389-4600 | www.forestriverinc.com/toyhaulers.aspx
Bronze: HEARTLAND
877-262-8032 | www.heartlandrvs.com/toyhauler-class
TRAVEL TRAILER
Gold:

Lance
Lance made its mark as a manufacturer of truck campers after getting its start back in 1965. Since then, lightweight travel trailers and toy haulers have become significant parts of the Southern California company's product line, with Lance paying the same careful attention to the design, construction and durability of its towable RVs as it has always given to its segment-leading truck campers.
661-949-3322 | www.lancecamper.com/travel-trailers
Silver: Forest River
574-389-4600 | www.forestriverinc.com/traveltrailers
Bronze: Jayco
574-825-5861 | www.jayco.com/products/travel-trailers
TRUCK CAMPER
Gold:

Lance
In the 53 years since Lance introduced its first truck camper, the company has earned a reputation as a manufacturer of innovative, long-lasting RVs and amassed a loyal following of repeat customers. For 2018 Lance offers nine hard-wall truck campers that include the flagship double-slide 1172.
661-949-3322 | www.lancecamper.com/truck-campers
Silver: Northwood
800-766-6274 | www.northwoodmfg.com/truck-campers
Bronze: Travel Lite
855-831-3525 | www.travellitecampers.com
TRUCK FOR TOWING
Gold:

Ford
The popular lineup of Ford trucks begins with the F-150 full-size pickup, the best-selling vehicle in America. Beyond its high-strength aluminum-alloy body, the 2018 F-150 offers a number of new powertrain choices.
For heavy-duty towing applications, the F-250, F-350 and F-450 Super Duty trucks have a new optional Trailer Reverse Guidance camera system that makes hitching up a snap.
800-392-3673 | www.ford.com/trucks
Silver: General Motors
800-222-1020 | www.chevrolet.com/trucks
888-988-7267 | www.gmc.com/trucks
Bronze: Ram
800-423-6343 | www.ramtrucks.com
ACCESSORIES AND SUPPLIES
AWNING
Gold:

Dometic
Dometic produces a wide range of awnings, slide toppers, screen rooms and related accessories for the RV market. The company's awnings are available in manual and remote-controlled models with innovations ranging from LED lighting and power connections on awning roller tubes to sensors that detect high winds and retract shades automatically.
800-544-4881 | www.dometic.com/usa
Silver: Carefree of Colorado
303-469-3324 | www.carefreeofcolorado.com
Bronze: Awnings by Zip Dee
800-338-2378 | www.awningsbyzipdee.com
BATTERY
Gold:

Interstate
Interstate is a leading supplier of automotive and RV power that has been in business since 1952. The company's dual-purpose AGM RV batteries feature an expected service life that is twice that of conventional alloy AGM batteries, and the batteries are backed by a three-year warranty.
866-842-5368 | www.interstatebatteries.com
Silver: Optima
888-867-8462 | www.optimabatteries.com
Bronze: Trojan
800-423-6569 | www.trojanbattery.com
CLEANING PRODUCT
Gold:

Meguiar's
Established in 1901, Meguiar's offers a wide array of supplies for interior and exterior care and maintenance of RVs, cars, trucks, motorcycles and boats, and makes a number of products designed specifically for RV use.
800-347-5700 | www.meguiars.com/en
Silver (tie): Camco
800-334-2004 | www.camco.net
Silver (tie): Protectall
800-322-4491 | www.protectall.com
Bronze: Wash Wax All
800-927-4929 |  www.washwax.com
ENGINE OIL
Gold:

Shell Rotella
Developed by Shell, the Rotella lineup of heavy-duty engine lubricants includes straight-grade, full-synthetic and synthetic blends with features to help control wear, deposits and oil breakdown. Rotella T4 and T5 meet the new API CK-4 diesel standards for improved emission control.
888-467-4355 | www.rotella.shell.com
Silver: Mobil 1
800-662-4525 | www.mobiloil.com
Bronze: Amsoil
800-956-5695 | www.amsoil.com
FIFTH-WHEEL HITCH
Gold:

B&W Hitches
A family-owned business in Humboldt, Kansas, B&W makes the popular rail-mounted Patriot and under-bed Companion fifth-wheel hitches in stationary and sliding models. The Companion also fits Ford, GM and Ram puck systems. B&W introduced the innovative Turnoverball hitch nearly 30 years ago and has been bringing towing solutions to the market ever since.
800-810-4918 | www.turnoverball.com/products/fifth-wheel-towing
Silver: Demco
800-543-3626 | www.demco-products.com/rv-towing/hijacker
Bronze: PullRite
800-443-2307 | www.pullrite.com
FUEL ADDITIVE
Gold:

Lucas Oil
Lucas Oil's popular fuel additives include conditioners, boosters and stabilizers, many of which can be found on the shelves of auto-part stores and discount retail chains. The company also produces motor oils, cleaners, detailing kits and greases.
800-342-2512 | www.lucasoil.com
Silver: Power Service
866-506-6572 | www.powerservice.com
Bronze: Sea Foam
952-938-4811 | www.seafoamsales.com
GENERATOR
Gold:

Honda
Honda is a leading provider of lightweight and quiet portable generators. The company's 2,000-watt inverter generators supply hours of consistent electrical current without refueling and are popular with RVers.
770-497-6400
www.powerequipment.honda.com/generators
Silver: Champion
877-338-0999 | www.championpowerequipment.com
Bronze: Cummins
800-888–6626 | www.power.cummins.com
HOLDING-TANK TREATMENT
Gold:

Thetford
The number-one supplier of sanitation products for the RV market, Thetford makes holding-tank chemicals that effectively break down waste and control odors. Its top seller, Aqua-Kem, comes in biodegradable liquid, granular and toss-in forms.
800-543-1219 |  www.thetford.com
Silver: Travel Jon
800-348-3505 | www.centurychemical.com
Bronze: Camco
800-334-2004 | www.camco.net
PERFORMANCE-ENHANCING PRODUCT
Gold:

5 Star Tuning
A family-run business based in Florence, South Carolina, 5 Star Tuning specializes in custom tuning applications for towable and motorized RVs. The company's tuners are said to help unlock additional torque, horsepower and efficiency in vehicles, even in mountainous terrain.
843-536-1244 | www.5startuning.com
Silver: Banks Power
800-601-8072 | www.bankspower.com
Bronze: K&N Engineering
800-858-3333 | www.knfilters.com
REFRIGERATOR
Gold:

Dometic
Designed to withstand the rigors of RV travel, Dometic refrigerators come in numerous shapes, sizes and styles, from double-door built-ins to freestanding fridges and wine chillers. RVer-friendly features include automatic locking systems, versatile racking and adjustable shelf guards.
800-544-4881 | www.dometic.com/usa
Silver: Norcold/Thetford
800-543-1219 | www.norcold.com
Bronze: Samsung
800-726-7864 | www.samsung.com/us/home-appliances/refrigerators
RV COVER
Gold:

ADCO
A supplier of protective products for RVs for the past 60 years and now a division of Covercraft Industries, ADCO offers covers for RVs and RV tires, windshields, side-view mirrors, LP-gas cylinders and rear bike racks.
800-541-2326 | www.adcoprod.com
Silver: Elements
888-626-7576 | www.campingworld.com/elements
Bronze: Calmark
800-838-7236 | www.calmarkcovers.com
SATELLITE HARDWARE
Gold:

Winegard
Winegard's wireless, satellite and over-the-air antennas let RVers watch the big game or local news from the comfort of their campsite. Since the company's inception in 1953, Winegard has designed more than a thousand models, including satellite-TV antennas that work with Dish, DirecTV and Shaw Direct. Its new ConnecT internet extender increases the range of Wi-Fi and cellular signals in RVs.
800-472-1039 | www.winegard.com
Silver: King
952-922-6889 | www.kingconnect.com
Bronze: TV4RV
541-244-0250 | www.tv4rv.com
SATELLITE-TV PROVIDER
Gold:

Dish
Dish offers equipment and programming so RVers can tune in to hundreds of channels of high-definition TV almost anywhere they travel. Packages offer pay-as-you-go options that let users purchase only the months of satellite service they need with no long-term contract.
800-472-1039 | www.dishformyrv.com
Silver: DirecTV
888-777-2454 | www.directv.com
Bronze: Shaw Direct
888-554-7827 | www.shawdirect.ca/english
TIRES
Gold:

Michelin
While Michelin doesn't make tires specifically for trailers, it manufactures a variety of tires suitable for RVs and tow vehicles, including XPS Rib LT tires, a popular ST replacement. The new X Line Energy Z features an innovative tread compound and is guaranteed to deliver better mileage than similar tires.
866-866-6605 | www.michelinrvtires.com
Silver: Goodyear
800-321-2136 | www.goodyearrvtires.com
Bronze: Maxxis
800-462-9947 | www.maxxis.com
TIRE-PRESSURE MONITORING SYSTEM
Gold:

TireMinder
Working with a smart device or as a stand-alone system, the TireMinder TPMS has lightweight transmitters that keep tabs on trailer and tow-vehicle tires, checking air pressure (up to 232 psi) and temperature, and alerting drivers with visual and audible alarms. The company's new solar-powered system is designed for dual- or single-axle trailers with tires inflated up to 70 psi.
772-463-6522 | www.minderresearch.com/tireminder
Silver: HawksHead
888-321-8767 | www.tpms.ca
Bronze: Truck System Technologies
770-889-9102 | www.tsttruck.com
TOILET
Gold:

Dometic
A worldwide manufacturer of products for recreational vehicles, Dometic designs toilets for RV use that include macerator, vacuum and portable units. For a residential feel, Dometic provides a range of ceramic-bowl toilets in standard and low-profile heights with powerful flushing technology.
800-544-4881 | www.dometic.com/usa
Silver: Thetford
800-543-1219 | www.thetford.com/products/toilets/rv-toilets
Bronze: Nature's Head
251-295-3043 | www.natureshead.net
TRAVEL-TRAILER HITCH
Gold:

Equal-i-zer
Made in America by Progress Manufacturing, the Equal-i-zer hitch combines weight distribution with sway control to minimize problems caused by passing vehicles, crosswinds and other towing hazards. The hitch relies on spring-bar tension and is particularly effective on trailers with relatively high hitch weights.
800-478-5578 | www.equalizerhitch.com
Silver: Fastway
877-523-9103 | www.fastwaytrailer.com/e2-hitch
Bronze: Blue Ox
800-228-9289 | www.blueox.com/trailer-towing
TRUCK-BED LINER
Gold:

Line-X
A leading provider of spray-on truck-bed liners, Line-X has more than 500 locations that apply the company's fast-curing polymer coatings. Installed by trained technicians, the permanently bonded bed liners come in a variety of colors and carry a lifetime warranty.
877-330-1331 | www.linex.com
Silver: Rhino Linings
800-422-2603 | www.rhinolinings.com
Bronze: BedRug
615-847-0020 | www.bedrug.com
RETAIL, SERVICE AND TRAVEL
FUEL STATION
Gold:

Pilot Flying J
RVers looking for a reliable place to fuel up frequently stop at the gas and diesel pumps at Pilot Flying J. More than 650 travel plazas across North America offer overnight parking, dump stations, LP-gas refills and certified truck scales, in addition to designated RV lanes at some locations. RVers can also take advantage of clean restrooms, hot showers, fast-food options, Wi-Fi and rewards programs.
877-866-7378 | www.pilotflyingj.com/rv-services
Silver: Costco
800-774-2678 | www.costco.com/gasoline.html
Bronze: Love's
800-655-6837 | www.loves.com
RV CAMPGROUND/RESORT
Gold: Pala Casino RV Resort, Pala, California
Opened in 2016, Pala's 10-acre RV resort is now a 10/10H/10-rated destination that's a free shuttle ride away from its namesake casino complex. The Southern California resort offers 100 full-hookup campsites, free Wi-Fi and cable TV, clean restrooms and showers, a heated swimming pool, a fenced dog park, organized activities and round-the-clock security.
844-472-5278 | www.palacasino.com/resort/rv-resort
Silver: Pechanga RV Resort, Temecula, California
877-997-8386 | www.pechanga.com/rvresort
Bronze: Disney's Fort Wilderness Resort Orlando, Florida
407-824-2900 | www.disneyworldcamping.com
RV CASINO RESORT
Gold:

Pala Casino Spa and Resort, Pala, California
A world-class gaming facility near San Diego with 2,000 slot and video machines, nearly 100 table games, 10 restaurants, two lounges and a 2,000-seat event center, Pala is a state-of-the-art casino complex with a Readers' Choice Awards gold-winning RV resort just minutes away.
877-946-7252 | www.palacasino.com
Silver: Pechanga Resort and Casino, Temecula, California
888-732-4264 | www.pechanga.com
Bronze: Seven Feathers Casino Resort, Canyonville, Oregon
800-548-8461 | www.sevenfeathers.com
RV RETAILER
Gold: Camping World
America's largest retailer of RV supplies, accessories and new and used RVs is a one-stop destination for all things RV. Based in Bowling Green, Kentucky, Camping World now operates 130 conveniently located supercenters and an extensive online store. Onsite facilities offer RV repair and maintenance work.
888-626-7576 | www.campingworld.com
Silver: Local Dealer
Bronze: Amazon
888-280-4331 | www.amazon.com
SIT-DOWN RESTAURANT
Gold:

Cracker Barrel
Established in 1969, the chain of Cracker Barrel Old Country Store restaurants now extends to 645 locations in 44 states, dishing up chicken-fried steak, biscuits and gravy, along with down-home Southern hospitality to 217 million guests a year.
800-333-9566 | www.crackerbarrel.com
Silver: Red Robin
877-733-6543 | www.redrobin.com
Bronze: Applebee's
888-592-7753 | www.applebees.com
STATE TO RV IN
Gold:

Oregon
From Crater Lake to the Columbia River and Cannon Beach to the Cascade Range, Oregon has something for every RVer. A mild climate and diverse terrain combine with a wealth of campgrounds to make RV travelers feel right at home. The top-notch Travel Oregon website provides an RV-park search tool as well as inspiring trip itineraries.
800-547-7842 | www.traveloregon.com
Silver: Michigan
888-784-7328 | www.michigan.org
Bronze: Texas
800-452-9292 | www.traveltexas.com
---