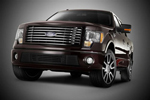 2010 Ford
F-150 Pickup
Brought to you by Trailer Life magazine

For 2010, Ford's F-150 lineup has been expanded to include an updated Harley-Davidson
model, plus an off-road version called the Raptor. The base engine is still a 248-hp
4.6-liter V-8 with a four-speed automatic transmission. Options include a 292-hp 4.6-liter
and a 310-hp 5.4-liter V-8, both with a six-speed automatic.
Continued from newsletter…
Later this year the Raptor will get a new 6.2-liter V-8 that Ford claims will have 400 hp.
Both rear-wheel and four-wheel drive with low-range are offered on most models and the
Harley-Davidson model is offered with all-wheel drive with low-range.
Three cabs are offered: Regular cab, SuperCab extended cab and SuperCrew crew cab, which
has four conventional doors. Bed lengths include 5.5, 6.5 and 8 feet. F-150 models include
base XL, sporty STX, off-road-oriented FX4, volume XLT, special-edition Harley Davidson,
King Ranch and Lariat, and Platinum. The Harley Davidson SuperCrew has a special interior
and exterior trim plus a sport suspension, while the 4×4 Raptor has specific trim and
off-road suspension.
Safety systems include ABS, traction control, antiskid system, curtain-side airbags, and
front-side airbags. Available options include a hideaway tailgate step, retractable cable
lock to secure items in the bed and a cap-less gas filler. Electronic goodies include Sync
voice-activated cell phone and MP3 player system, voice-activated navigation that includes
real-time traffic info, rearview camera, built-in dashboard computer with printer,
tool-inventory system and a vehicle-tracking device for fleet users. Maximum tow rating
properly equipped is 11,300 pounds.