Uncovering Sedona's Secrets
Sip, Sup, Shop, and Cycle in This Seductive Arizona City
Premium
Are you dreaming of slipping away with your true love to celebrate Valentine's Day in your RV? Would a place filled with outdoor adventure, glorious scenery, small-town charm, and a romantic flair fit the bill? If so, Sedona, Arizona, is the place for you!
You can hike, bike, or take a 4WD vehicle on thrilling trails through jaw-dropping red-rock vistas and then steal a memorable kiss at a spectacular overlook. Stroll hand-in-hand on the streets of an artsy small town and celebrate your love over a glass of wine from a nearby vineyard or toast each other with a locally brewed craft beer. A few days in Sedona will be a few days of pure magic.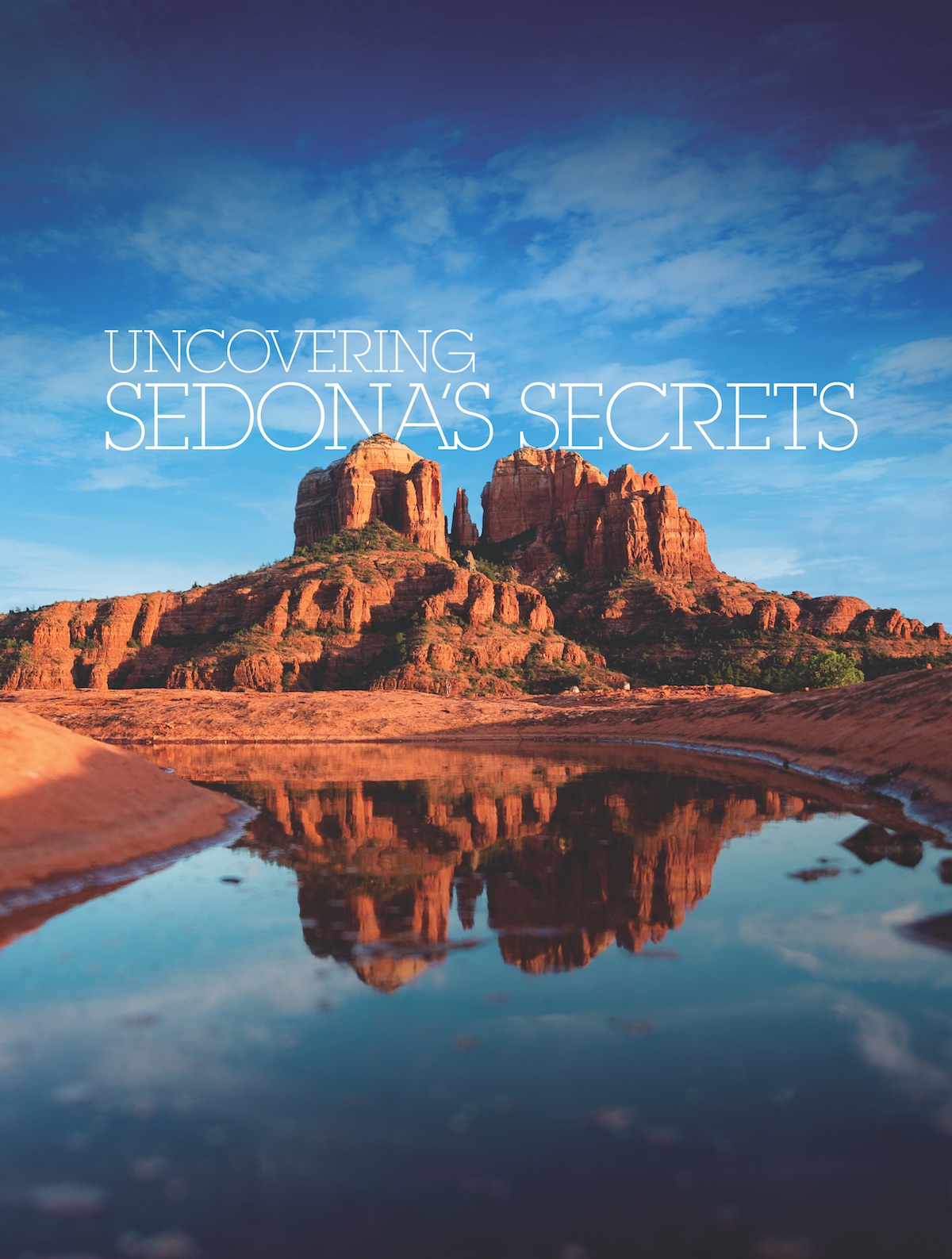 Sedona, The Best of Everything
What could be more romantic than spending a few hours strolling hand-in-hand under the ornate arches through the intimate courtyards of Tlaquepaque, an unusual shopping and dining venue that is reminiscent of a traditional Mexican hacienda? Nicknamed the "Art and Soul of Sedona," this wonderful indoor/outdoor property is a charming maze of picturesque architecture, art galleries, boutique shops, and eateries.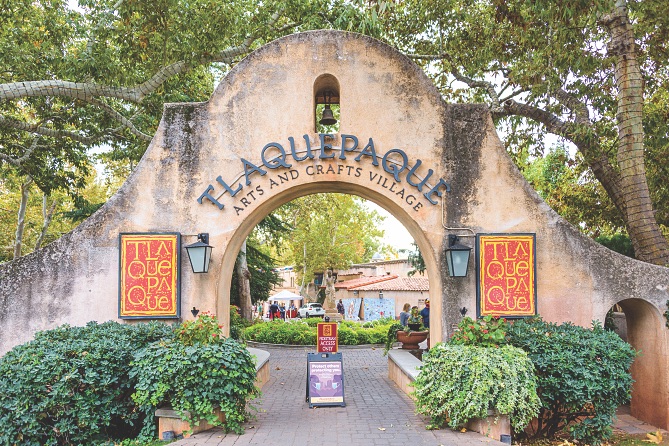 Tlaquepaque means the "best of everything" in the ancient Aztec Nahuatl language, and the name says it all. From enjoying a spicy cup of hot chai high up on a balcony above a promenade to gazing in wonder at the blown-glass artwork at the Kuivato Glass Gallery to getting in touch with your inner child at Tlaquepaque Toy Town, a world of fun window shopping awaits. In between the pretty shops, ornate fountains bubble in every nook and cranny. Many a wedding or engagement photoshoot has taken place here, and even if you don't bump into a bride posing with her wedding party, other tourists will be more than happy to take a Valentine's photo of you and your true love in a quaint spot.
When you want a change of pace from the shops and plazas, you'll find a grassy area under shade trees leading down to babbling Oak Creek on the outer perimeter of Tlaquepaque. This is a beautiful area to take a snooze in one of several hammocks or sit on a park bench, close your eyes and take a deep breath. We have visited Tlaquepaque on countless occasions, and this spot was the gem we discovered on our latest visit.
Red-Rock Views
Sedona is a shopper's and diner's paradise, but it also an outdoor lover's paradise. Surrounded by national forest land with a stunning state park just beyond the city limits, it is easy to get out and immerse yourself in exotic red-rock splendor. From taking a leisurely walk between towering pinnacles to tackling treacherously difficult mountain-biking passes stair-stepping up and down sandstone ledges, there is a trail for every taste and skill level.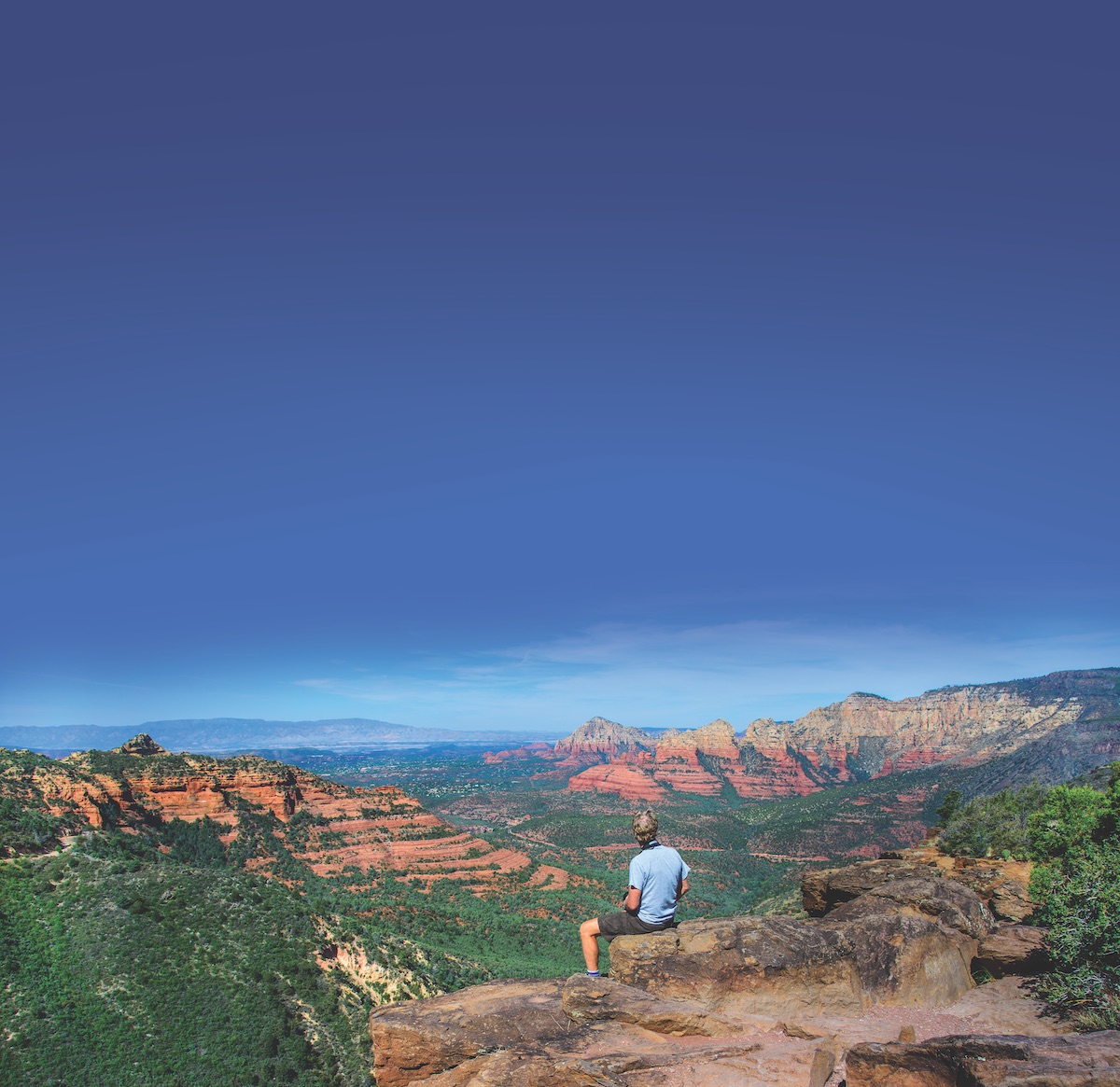 Sedona's Bell Rock Pathway
Our all-time favorite trail is Bell Rock Pathway with its magnificent views and close proximity to the cute bistros and shops in the Village of Oak Creek. The wide, smooth trail wanders between and around some of the area's most famous red-rock formations, and it is so smooth underfoot that both the very young and very old find it's a breeze to traverse. The trail runs parallel to the main drag, Highway 179, which connects the Village of Oak Creek with the town of Sedona, and there are three trailhead access points. Do just a small section of the trail for a quick blast of breathtaking beauty without losing your breath, or you can hike or bike the whole 7.2 miles out and back.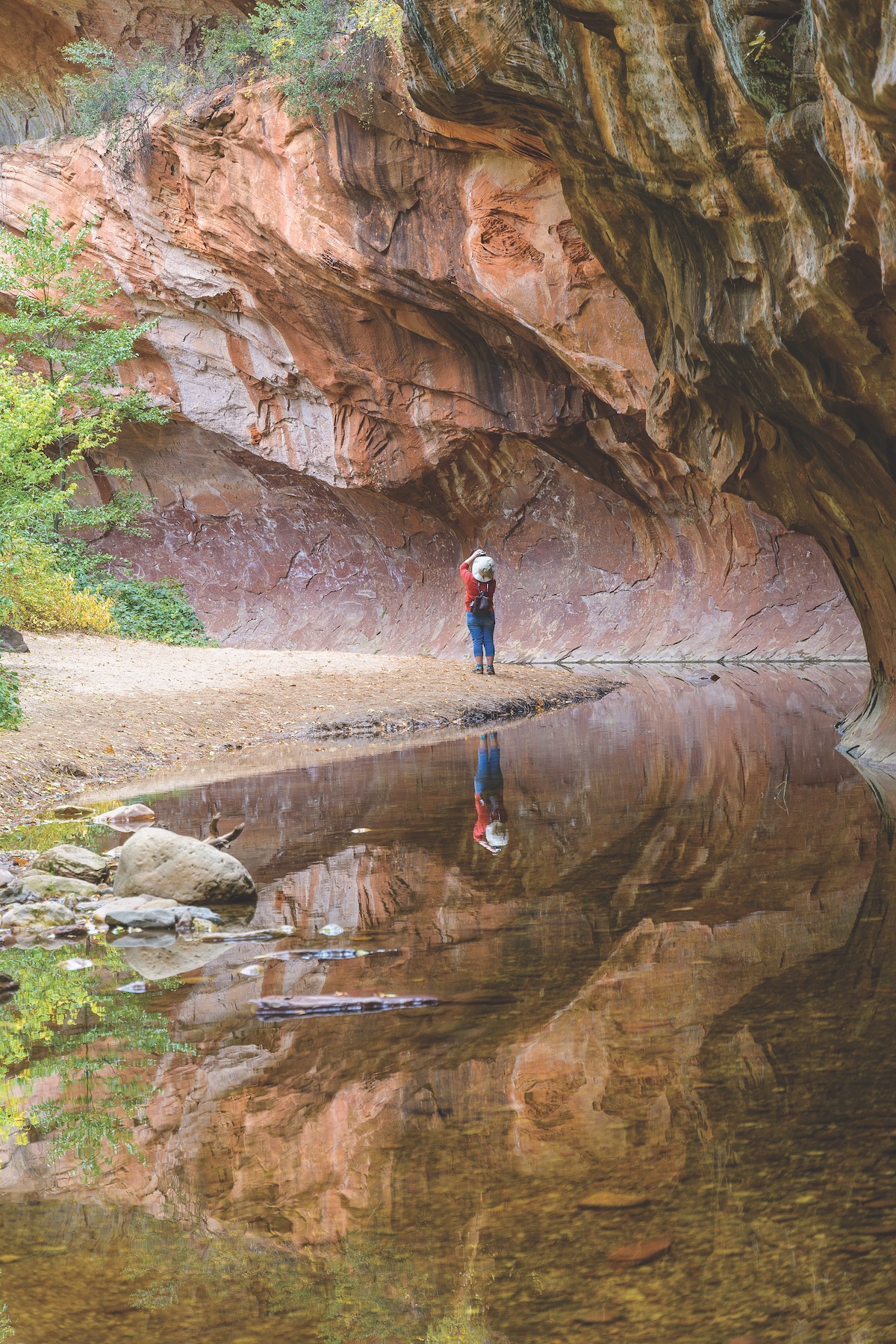 Either way, sensational views of the Liberty Bell-shaped Bell Rock, stately Courthouse Butte, and iconic Cathedral Rock greet you at every turn. For mountain bikers, whether you are experienced or a novice, the Bell Rock Pathway is almost effortless and makes you feel like you're riding through the pages of a glossy travel brochure.
Hundreds of miles of other trails weave through the national forest around Sedona and the Village of Oak Creek. Baldwin, Brins Mesa, Cathedral Rock, Doe Mountain, Hog Heaven, Cow Pies, and Templeton trails are all delightful. If you hit any trail near dawn, there's a good chance you'll be alone with your loved one amid the marvelous red rocks listening to birds singing their greetings to the new day.
Psychics say they can feel mysterious powers in certain vortexes located around Sedona, and Airport Mesa is one of these. A climb up the trail rewards you with an awe-inspiring panoramic view, and if you sit quietly for a while you may feel spiritual connections. Whether the moment is transcendent for you or not, the views are out of this world. Our spirits soared as we gazed at the wonderland before us. What a place to pop the question or fall in love all over again!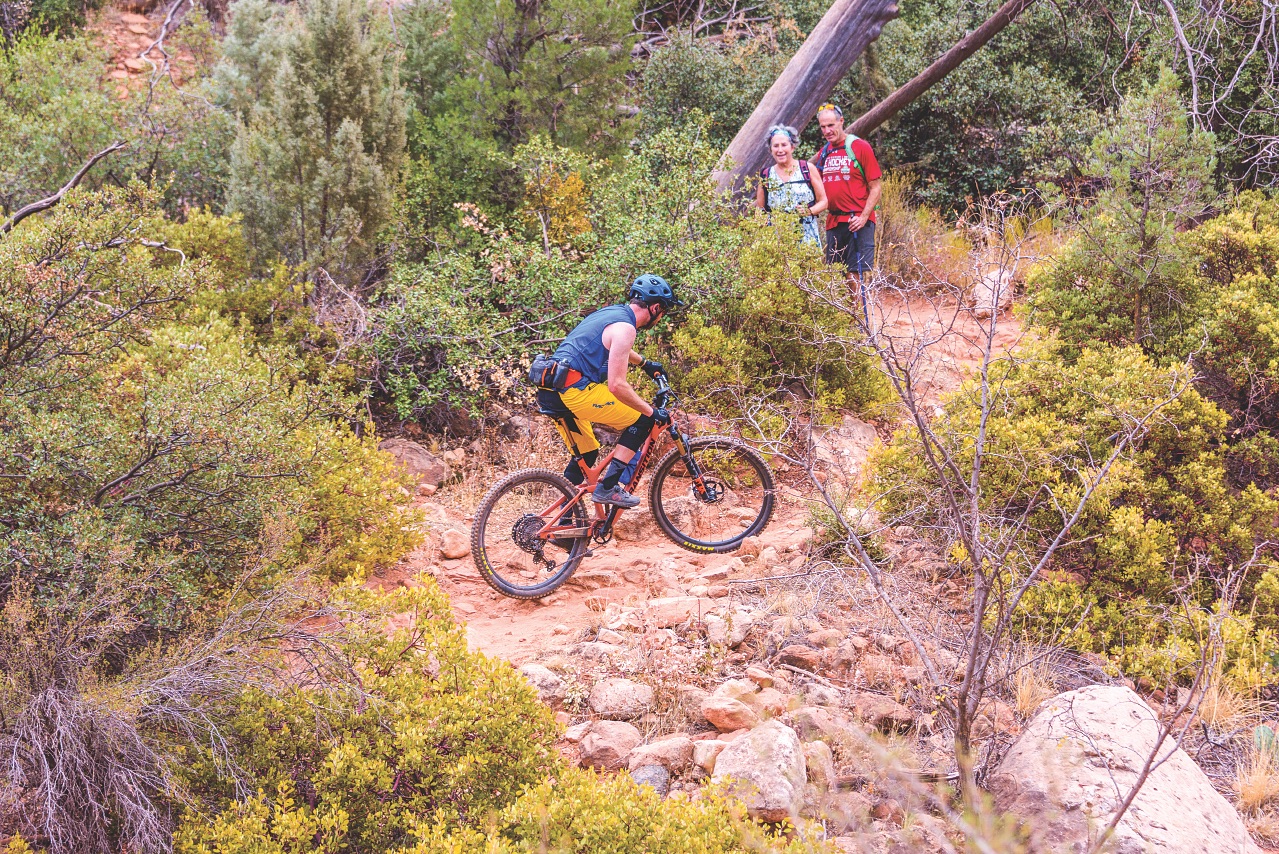 Sedona's West Fork Trail
A few miles north of town, the West Fork Trail goes deep into the woods. A half-mile into the hike you come across the ruins of the old Mayhew Lodge. First built by Bear Howard as a small cabin, the property was eventually expanded and then purchased by the Mayhew family in 1936. Operated as a guest house catering to A-list celebrities until 1968, the guest list included such illustrious names as President Herbert Hoover, Jimmy Stewart, and Clark Gable.
Sadly, after the US Forest Service acquired the property in 1968, it burned to the ground in 1980. All that remains today is the brick fireplace and spartan hints of the high life lived by the rich and famous while on holiday many decades ago. The West Fork Trail is 3.2 miles long, but our favorite spot is just another half-mile farther in where Oak Creek tumbles over boulders and pools under striking sandstone cave walls. The glassy water is like a mirror and the reflections of the curved stone walls and towering trees make for gorgeous images. The beauty of this trail is that it goes out and back, so you can turn around at any time, making it as rigorous or relaxed as you wish.
Sedona Tours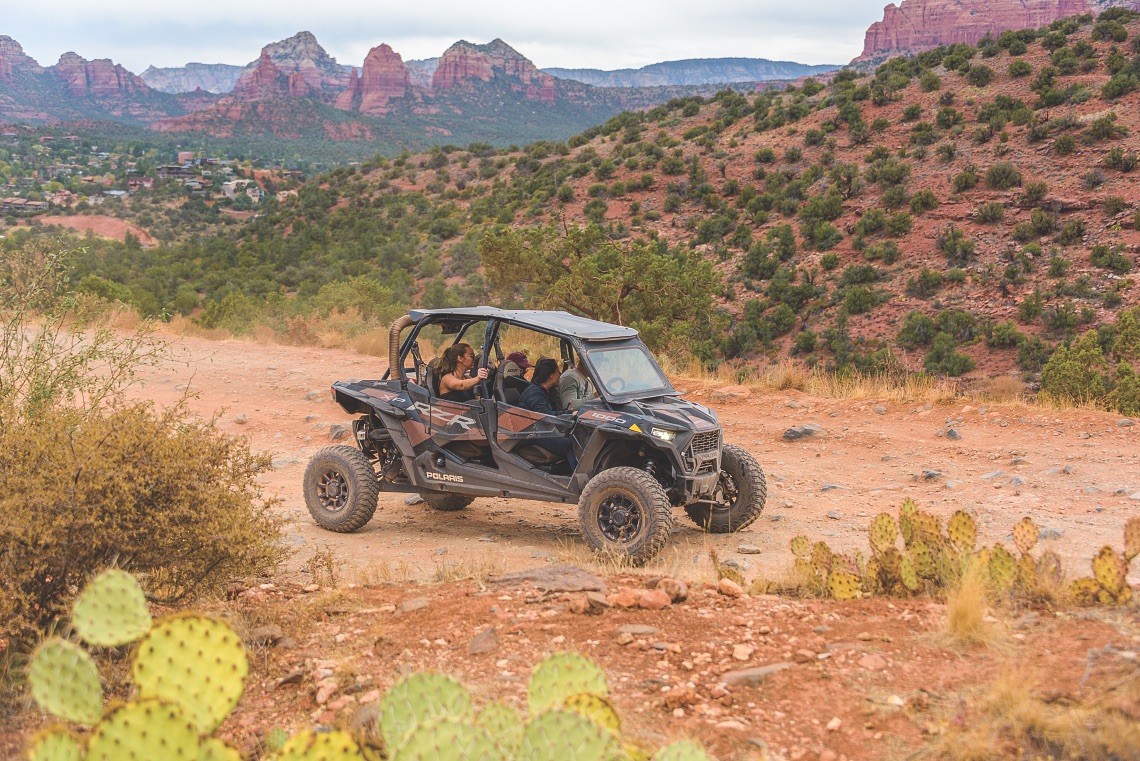 If huffing and puffing alongside your true love in hiking boots or on a bike isn't your style, you can still have a thrilling adventure together on an Arizona Safari Jeep Tour. The Jeep drivers are informative and more than happy to stop anywhere for a photo op. From teaching you about the Native American uses of local nuts, to showing you unsung historic spots deep in the canyons around Sedona, you will gain unique insights into the area on your tour.
The Call of the Canyon Tour goes through stunning scenery in Oak Creek Canyon, a canyon that has been named one of the most scenic drives in America by Rand McNally, while the Outlaw Trail tour cruises through the vast vistas of West Sedona. You can share these adventures with other tourists, or you can book a private tour for just you and your loved one.
Toy-hauler owners will love taking their UTVs or ATVs on wild rides up and down mostly dirt Schnebly Hill Road as well as driving past the sensational views of Chicken Point punctuating the Broken Arrow Trail.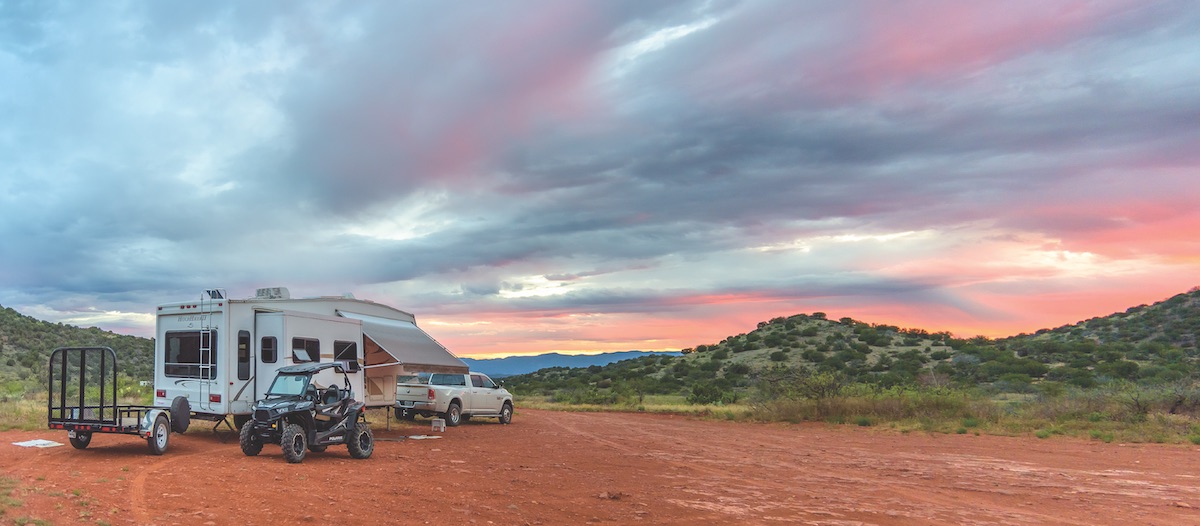 Sedona Adventures We Love
For a special Valentine's treat, book a train ride on Verde Canyon Railroad's "A Sweet State of Mind Chocolate Lovers' Special. "During this romance on the rails, you'll sample sumptuous chocolate treats with your loved one in comfy accommodations while enjoying sensational views from the train's windows.
Looking to get above it all? See the majestic red rocks from the air by helicopter. Join others on a group ride or book a private tour for just you and your loved one with Guidance Air. Or float quietly over the landscape in a balloon on an "aerial nature walk "with Red Rock Balloon Adventures.
Discover Sedona's vortex enchantment with your soulmate under the guidance of a professional yogi by going on a unique yoga hike.
Stare into the depths of the heavens on an evening stargazing tour! Sedona has dark night skies, and on these tours, a professional astronomer teaches you to recognize the most visible constellations and then helps you experience the night sky on your own through powerful telescopes.
Sedona Eats
And what better way to recover from all these adrenaline rushes in nature than to relax over a tasty meal?! The Golden Goose American Grill offers mouthwatering steaks and seafood along with locally brewed beer and wine from Arizona Stronghold Vineyard, and they celebrate Valentine's Day with a special menu.
For more refined elegance and artistic cuisine, a pricier dinner at Dahl and DiLuca Ristorante Italiano is a memorable experience. Our favorite little go-to spot for a late-afternoon cold one is Oak Creek Brewing Company in West Sedona where you can share a pitcher of delicious Nut Brown Ale while seated next to tall stainless-steel tanks fermenting the next batches of beer. They don't serve food, but you can grab a snack to take in with you from a block away at Bashas'supermarket. If you want to sample their beers with a full menu, Oak Creek Brewing operates an excellent restaurant at Tlaquepaque with windows overlooking the action.
For us, the allure of Sedona keeps drawing us back. It is captivating at every time of year, but on Valentine's Day it is one of our favorite places to celebrate our love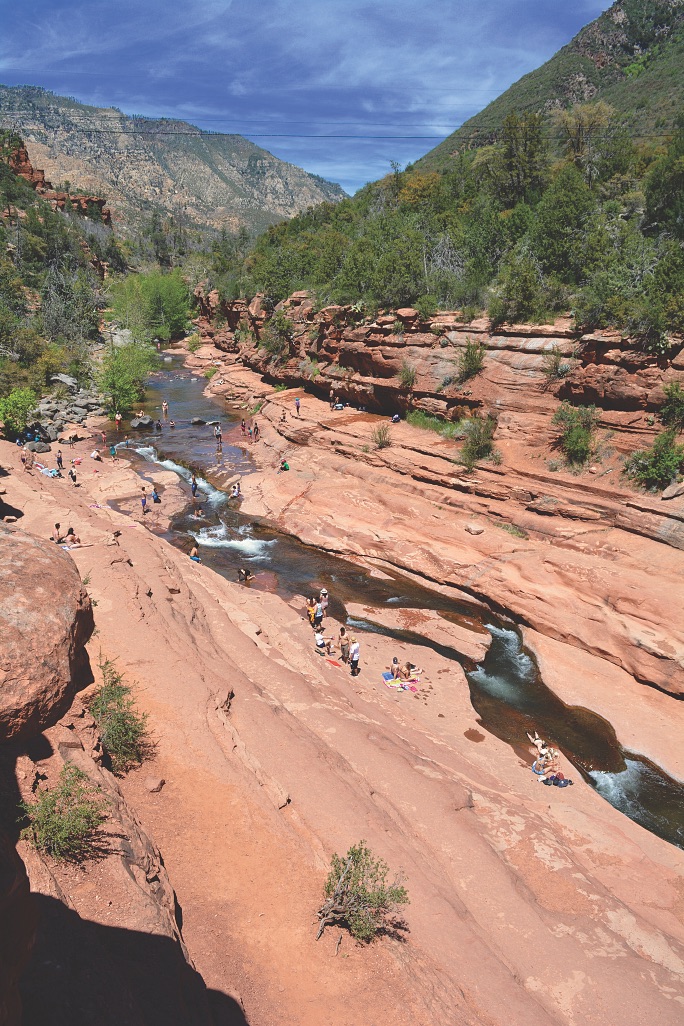 For More Info
Good Sam RV Parks in the Area