Celebrating Solitude and Space While Camping
10 Must Visit Gems That Allow for Plenty of Wide-Open Spaces
Premium
One of the things we love best about outdoor adventure is that it's easy, fun, and enjoyable for the whole family. Such journeys may lead to popular destinations like theme parks, heavily traveled national parks, or even quirky "As seen on TV" holes-in-the-wall. But if you're like me, exploring without the throngs of tourists associated with Google searches or following a guidebook is more gratifying.
This is especially true today in the wake of a global pandemic, when the more personal space you and your party have, the better and safer. Whether you're dreaming of deserted beaches, a tranquil lake, or beautiful mountaintop views, 2021 is the year to skip the crowds and celebrate solitude. Vacationing in any of these secluded spots will get you back to nature yet still offer plenty of recreational activities.
Some are off-grid, and others are just off the beaten path, but all will give you a chance to unwind and enjoy the RV lifestyle in a safe, socially distanced way.
Superior National Forest – Minnesota
With 2,000 miles of trails designed for hiking, hunting, mountain biking, and more, you'll have plenty of space in Minnesota's Superior National Forest.
If you're not in the mood for a walk, take a drive on one of three national scenic byways, or launch a boat, fish, or swim at one of the many lake accesses, fishing piers, and beaches. Feel like exploring? Check out some of the nearly one million acres of Boundary Waters Canoe Area Wilderness that lie within the forest.
Superior National Forest has thirty-seven campgrounds to choose from, so you're bound to find the perfect secluded site for your RV.
Bannack State Park – Montana
Bannack State Park in Dillon, Montana, is home to sixty well-preserved log, brick, and frame structures still standing from the town's gold-rush past. Founded in 1862 and briefly the capital of the Montana territory, the last living residents left half-a-century ago.
Visitors are free to explore most of the structures, and the town is within easy walking distance of the park's two spacious campgrounds. Bannack State Park sponsors a ghost walk with live reenactments in the dead of night, and campers can pan for gold. Bannack State Park's remote location has made it one of America's little-known historic gems.
Mount Hood National Forest – Oregon
The resort and campground are located in Oregon's Mount Hood National Forest, which extends south from the strikingly beautiful Columbia River Gorge across more than one million miles of forested mountains, lakes, and streams.
Not only is the view of a Lost Lake amazing, but the campground offers a public boat launch; canoe, kayak, boat, and stand-up paddle-board rentals; and hiking and biking trails ranging in length from one-quarter mile to more than one hundred miles. Other activities include bird watching, berry picking, swimming, and searching for waterfalls. Also accessible are a fishing dock and miles of trails.
Mount San Jacinto State Park – California
Just a few miles north of the mountain community of Idyll wild, California, Mount San Jacinto State Park's Stone Creek Campground's sites are spread among pines and manzanitas for lots of room between fellow campers.
These mountains are best known for the Palm Springs Aerial Tramway, which runs from near Palms Springs to an elevation of 8,500 feet close to the summit of 10,834-foot San Jacinto Peak. The scenic overlooks on the trails here are incredible, and locals will tell you that the campground is seldom crowded.
Curry Hammock State Park – Florida
If you thought you had to be a billionaire to find seclusion in the popular Florida Keys, think again. Halfway between Key Largo and Key West is 1,000-acre Curry Hammock State Park, the largest uninhabited parcel of land between Key Largo and Big Pine Key.
The state park's twenty-eight-site campground is open year-round. Most sites have a view of the Atlantic, and you can snorkel, kayak, paddle-board, or kiteboard right off the beach. You can even hook your dinner—campers have caught sizable sharks, snapper, and snook in the channel alongside the park.
Cranberry Lake State Park – New York
Cranberry Lake State Park is home to one of the largest and most remote lakes in the Adirondacks. Nestled within 50,000 acres of wilderness, the park includes fifty miles of developed trails, and the lake and its surrounding streams are known for excellent trout fishing.
Swimming and boating are popular, with a boat launch and sand beach available. Campsites are widely spaced and private, and the forest canopy provides shade as well as a display of color in the fall.
Breaks Interstate Park – Virginia/Kentucky
In 1767 Daniel Boone discovered the only passage through the 125-mile stretch of Pine Mountain to Kentucky and the Ohio River Valley. His trail is now the site of the Breaks Interstate Park, located on the Virginia/Kentucky border.
It encompasses 4,500 acres of green woodlands and mountain scenery, including the rocky cliffs that have earned it the name "Grand Canyon of the South." Recreational opportunities abound, with twenty-five miles of trails, mountain bike rentals, and horseback rides available close to your campsite.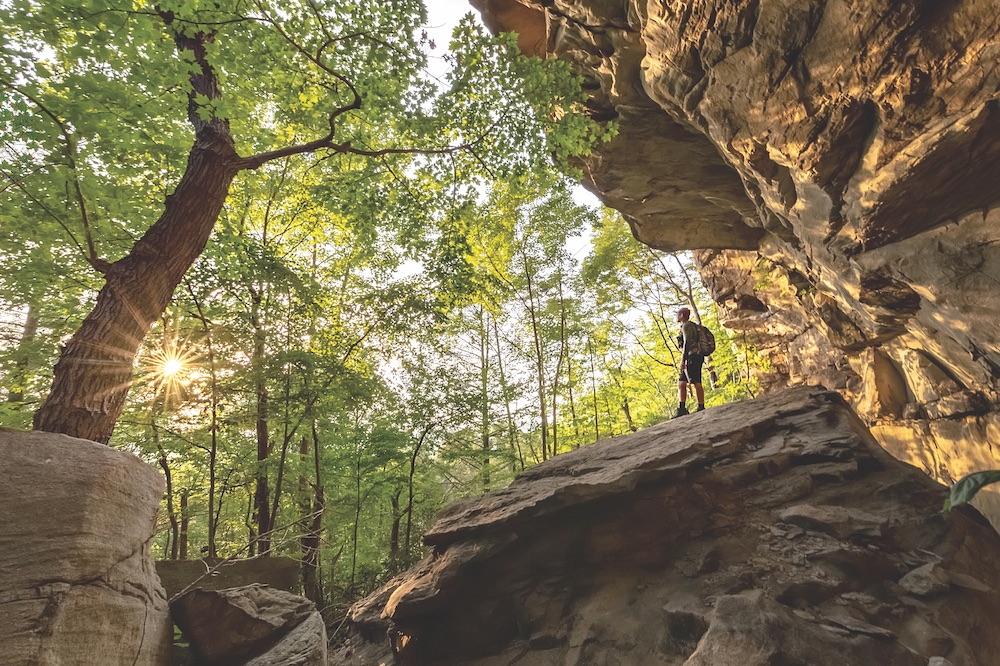 Black Mesa State Park – Oklahoma
Black Mesa State Park, located in Oklahoma's panhandle, is a favorite of astronomy enthusiasts. This out-of-the-way spot offers some of the darkest nighttime skies in the country. Not only does the park boast the highest point in the state at 4,973 feet, but it also has unusual topography for Oklahoma.
The mesas here are formed of black lava rock and the park's many hiking trails lead campers to views they won't see in any other Plains state. Wander the shore of Carrizo Creek, fish in Lake Carl Etling, and even view fossilized allosaurus footprints in a dry creek bed near the trailhead of Black Mesa Nature Preserve, fifteen miles away.
Stonewall Resort State Park – West Virginia
Who says you have to give up luxury to get away from it all? Stonewall Resort State Park in West Virginia is a year-round, secluded retreat set along the hills of Stonewall Jackson Lake.
At the same time, you can enjoy the marina, spa, and even a golf course. Hike one of the many trails or rent a boat and escape on the lake for a solitary experience. Better yet, bring your own fishing boat, kayak, or paddleboard and hit the water from your campsite. Briar Point Campground offers roomy lakeside RV sites with mooring posts.
Six Rivers National Forest – California
With some 1,500 miles of clear, healthy rivers, streams, and creeks, it's easy to see why fishing is so popular in Northern California's Six Rivers National Forest.
In addition to trout and bass, there are seasonal runs of steelhead trout and Chinook salmon. Even if you aren't an angler, you can enjoy a lazy day floating down the river. With 989,000 acres and twenty-seven campgrounds within the forest, you're guaranteed to have plenty of elbow room.
No Limit to Seeking Solitude
Even though there are more than 330 million people in these United States, you'll be surprised that there are seemingly endless options for seeking solitude. All it takes is a little research, an open mind, and a thirst for adventure.