Women With Wanderlust
These Women RVers Break Convention and Enjoy the Art of Self-Reliance
Premium
The quiet Okanagan River campground came alive on Friday when a steady parade of RVers rolled in to celebrate the holiday weekend.
Warm sunlight beamed through the forest while families unloaded their gear and kids with dogs eagerly explored their new surroundings. Just before dusk, a camper appeared and claimed the last vacant site. It was a tricky spot to get the trailer into, but the new neighbor expertly parked within minutes.
Ralanda Doniak and her dog, Summer, we're ready for fun. "I absolutely love the freedom, the peacefulness of the truck cab with just me, my dog, and my country music," says the Kitimat, British Columbia resident.
Raised on the prairie in an outdoorsy, rugged family, Ralanda was twenty-four when she first hitched up a trailer. Today, the solo mom of two adult children goes camping and ATVing in the Canadian Rockies at every opportunity.
She finds peace behind the wheel of her 2019 Dodge RAM Limited diesel truck and 26-foot Springdale travel trailer. "There's no one to worry about and nothing to have to stop for except my own needs and those of my dog," she says.
Sometimes she camps alone and family joins in occasionally, but her canine kid is always at her side. After decades of owning trailers, Ralanda isn't afraid to tackle her own RV maintenance and enjoys helping less seasoned RVers. "In my early years, I was taught that there is nothing a girl cannot do if she puts her mind to it. Being raised on a farm in rural Saskatchewan until the age of twelve, I was exposed to hard work and heavy equipment and watched my mother and grandmothers working hard right next to the men to get things done."
Women RVers Find Support and Inspiration
Solo women RVers like Ralanda were once a rare sight on the open road, but no longer. Women from all walks of life are road-tripping around North America.
Through Facebook groups like Friendly RV / Camping Women and support networks like RVing Women and Girl Camper, RVers who identify as women are sharing support and information about rig maintenance, navigation, and the ups and downs of cross-country travel.
Well-prepared and ready for adventure, these fearless female travelers are helping one another achieve their RV dreams.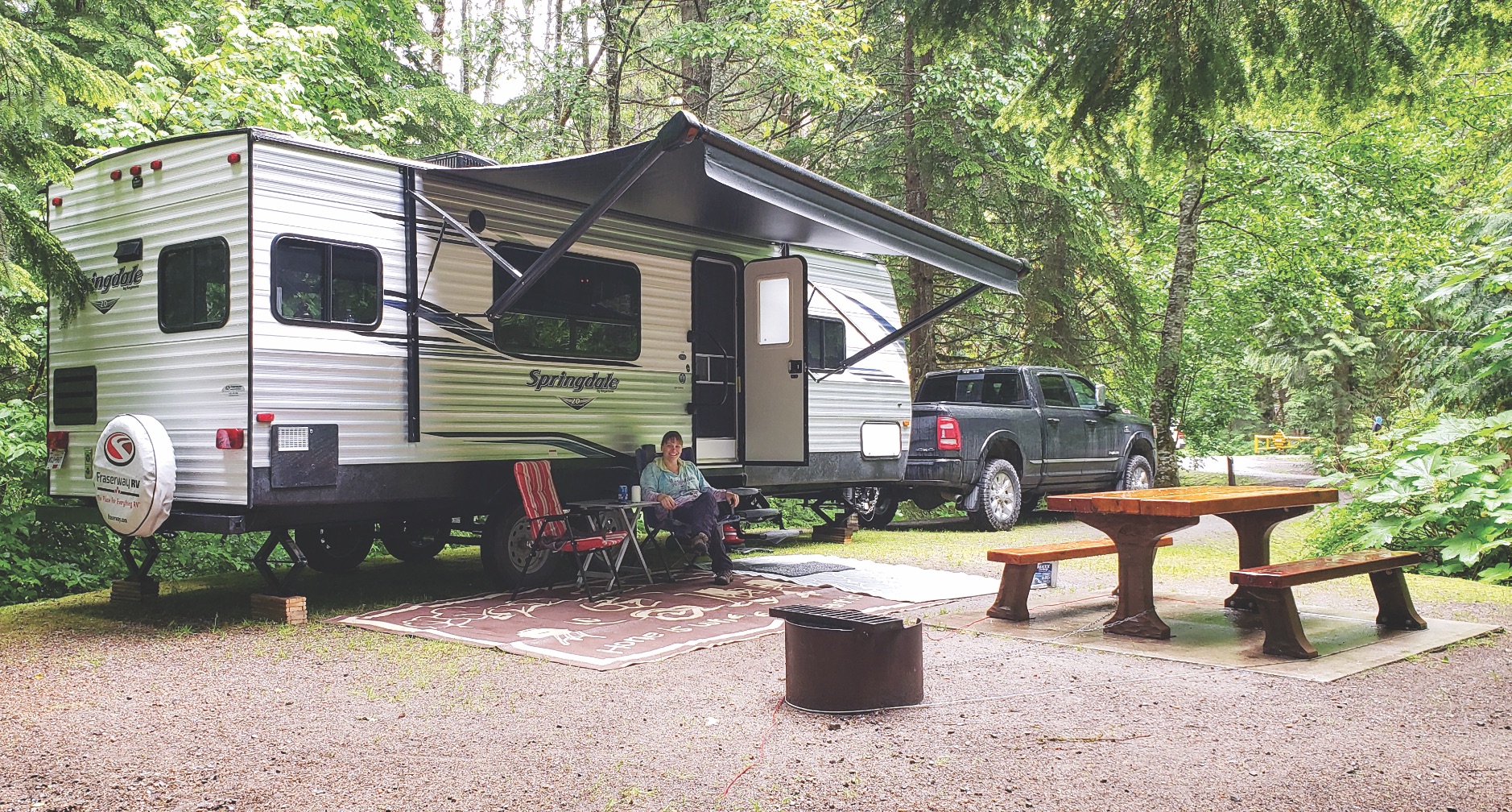 Phylana Ladd is always happy to help RVers. The retired program manager and Marine Corps MP from Iowa loves traveling full-time with her three cats. She never considered RVing during her working years, but once she discovered the lifestyle could nourish her appetite for learning, meeting people, and exploring nature, she got out of her comfort zone and hit the road. "I embrace what's different because it's in that realm where I'm going to learn the most," she explains.
Phylana's home on wheels is a 30-foot Lazy Daze motorhome that's taken her everywhere from the Florida Keys to the Baja California coastline. Along the way, she even found time to earn a Level II Certified RV Inspector credential from the National RV Training Academy. Like Ralanda, she enthusiastically shares her RV maintenance know-how with others.
That can-do spirit also motivates West Coast RVer Debbie Ringo to go exploring, much to the amazement of those who know her best. Camping was not on her radar until an old conversation with a Crater Lake visitor center volunteer spurred her into action after a job layoff.
Debbie shocked friends and family by purchasing a 24-foot Jamboree motorhome, downsizing her possessions, and taking flight. "I thought long and hard before I told anybody. There were people who really thought I had gone around the bend when I told them what I was about to do," Debbie explains.
Today, Debbie's 60th decade is her most adventurous yet. She and her two cats happily roam the West, while seasonally volunteering for the US Forest Service. Three years into full-time RVing, her three grown daughters no longer worry about their adventurous mom. "You get into living in the moment and realize that things get taken care of, you're going to be fine, and things really do work out," she says.
Passing the RVing Torch
Self-reliance and independence are lifelong skills that RVing women proudly pass along to their children and grandchildren.
"Camping gives me the opportunity to spend time with my adult daughters when otherwise they would be busy with their lives," says Anita Markley. The Southern California computer programmer grew up in the outdoors and is comfortable in her solo RV lifestyle.
As a mom raising four children on a tight budget, camping was the family's go-to getaway. Today, her three active, outdoorsy daughters are as strong and independent as their RVing mom. "They can all do mechanic work, remodel a house, work on the lawn, and enjoy the day at the spa," says Anita.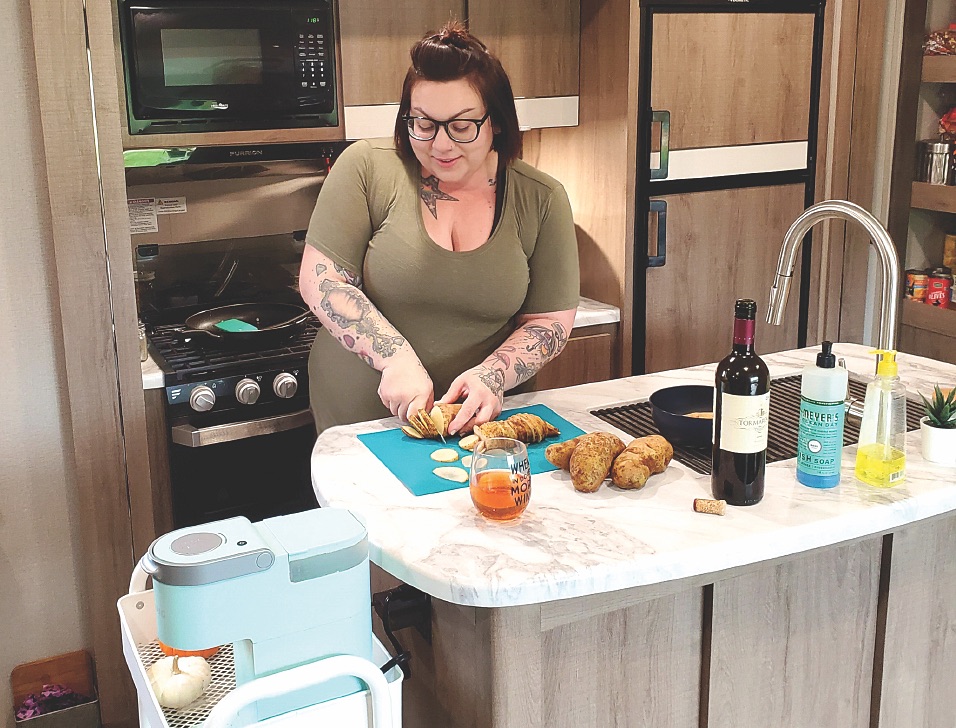 On any given weekend it's not unusual to see three generations of Markley women at the campground. Anita and a daughter purchased a 2020 Jayco trailer because it could easily accommodate their dogs, new grandchild, and her seventy-eight-year-old mother. The family camps year-round to hike, view wildlife, and strengthen family ties. "The time together is spent talking about boyfriends, bills, careers, disappointments, accomplishments, and life in general," says Anita.
RVing moms Shalene Machen and America Martinez love the RVing lifestyle so much they decided to make it a full-time way of life. Burned out from the rat race and stressful careers, the California women sold everything they owned to travel with their dogs and "road school" their two young boys, Damien and Oliver. The move paid off.
"We are all together 365 days a year, and our boys are best friends," Shalene explains. Their nomadic lifestyle overflows with lessons to make them happier humans, better mothers, and smarter RVers. Shalene and America are proud of the example they're setting for their boys. "We've learned to not sweat the small stuff, let the kids get dirty, and appreciate every moment we have together."
Whether rolling down the Alaska Highway or just taking it easy in Arizona, women RVers are paving the way for a more adventurous life. From rustic campgrounds to coastal resorts, these women are creating more joy in their lives by sharing their RV adventures and inspiring other women to do the same.